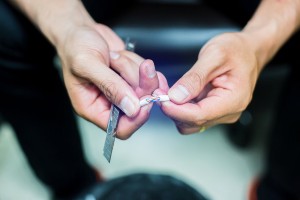 Like most technology, cabling improves and changes over time. And yet, many do not consider how old cabling may impact their business. Why? It may be because it's hidden behind the walls and lives in the background. Or, like many of us, until it impacts our day-to-day activities, we may not realize the situation we are in. Well, good news! I'm here to fill you in on the details so that you are armed with the information you need relative to the impact of cabling on your business.
Do you have an unsafe space?
Do you have a lot of old cabling in the walls or ceilings serving no purpose? It needs to be removed and/or updated. It's important to understand cable types have changed over the years. In addition, fire codes have changed as well. What you need to know about cables is the exterior jacket is flammable. Plenum cable is less toxic than riser cable and is required in a plenum ceiling. A plenum ceiling is a space between the structural ceiling and the dropped ceiling, it can also be under a raised floor. Drop ceilings with a plenum air return will require plenum cable as mandated by the fire marshal. So, not only will updated cable design and installation make your office safer, it will also help your business equipment run faster and more efficiently.
Is your technology equipment running slowly?
Have you heard of cat5e or cat6 cable? If not, that is okay. "Cat" is short for category, and this indicates the different levels of performance of the cable. Each category cable has different levels of signal bandwidth, attenuation (weakening of a signal's strength) and crosstalk associated with them.
Cat3 cables ran digital phones in the past and does not perform for VOIP (voice over internet protocol) phones. This is just an example of technology changing and cabling improving to fit the technology and speed necessary to operate the equipment.
The type of cable you are using makes a difference in the speed. Cat6 cable is good for gig speeds which will handle today's technology well. If you are experiencing slow speeds in most all your equipment, check the category of cable you have in place. If you are experiencing issues with specific equipment or areas of the building, then you can have connections and design layout checked.
If your cabling is old and needs to be replaced, keep in mind that updating your cable requires some planning, as well as thought put toward the design and layout. It is important to keep the future in mind, as well as meet the standards and performance requirements of today.
You may not be ready to undergo a cabling project, however, keep in mind the following when calculating the ROI of replacing your cabling:
Simplicity. With time and growth comes complexity. Updated cabling will be organized to support your office environment now and on into the future.
Reduced risk of downtime. A well-planned cabling installation will improve performance and eliminate downtime. It will also be easier to troubleshoot and accommodate moves, adds, and changes.
Cost effective. Depending on the current state of your cabling, a new system will boost productivity and accommodate business growth much easier by adapting to new equipment demands.
I hope I have left you with some things to consider and think about. Please reach out to us at CoreTech if you have cabling needs, if you are moving your office, or renovating your space. We would be glad to help.