Your business IT was under control…and then the clouds rolled in.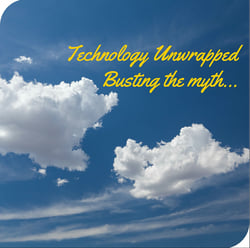 Before the clouds rolled in most of our small businesses had an onsite server hosting data, business applications, and Microsoft Exchange for email. We supported the server and the network, and the software companies supported the business applications. The applications and data were very centralized, and the network design was relatively straight forward.
Then the cloud entered the conversation. It presented a whole host of solutions and advantages for access, storage, mobility, and scalability; and many vendors promised a less expensive solution for businesses. Therein lies the myth.
Early on, many clients came to us to discuss cloud solutions because they were told the cloud would help to lower their IT costs. They quickly found out that was not always the case. The tradeoff for greater access, storage, mobility, and scalability is increased complexity. While the cloud made it easier for vendors to give you access to their applications and systems, they failed to inform you that your infrastructure and support requirements weren't going away, they were just shifting.
Now don't get me wrong, I am a big proponent of cloud solutions in many areas and for many clients. The cloud provides a lot of opportunities including, reducing, or in some cases eliminating the need for small businesses to have a server in their office—a cost savings. However, cloud solutions also increase the number of moving parts and vendors involved in a solution.
The fact is that when it comes to the development of technology—the simpler the system is made for the user, the more complex the backend becomes.
Have you heard Glasses Law of Complexity?
For every 25% increase in business functionality or connections, there is a 100% increase in complexity of that system.
So think about, instead of working with just your IT company and your application provider when you have an issue, you have to interact with any number of different vendors, including:
Local network support
Internet service providers (multiple because you will probably need a backup ISP connection)
Cloud application providers – accounting, sales, marketing, line of business app, etc.
Data backup companies
Email services
Network security providers
Someone has to coordinate and communicate with all of those vendors. If you thought it was difficult to negotiate the battlefield of network support versus software support, just think what it is like to try and resolve a performance issue when that many components and vendors are in the mix.
Therein lie the costs. Yes, you no longer pay for a server (at least not directly), however most businesses will end up leaning even more heavily on their trusted IT provider to help manage the various vendors and to take the lead in terms of technology management and support.
Are there exceptions? Certainly. There are some cloud solutions proven to be more cost effective for small businesses than their on-premise counterparts. For example:
Email – Office 365 hosted email accounts are much less expensive than maintaining an on-premise Exchange Server.
Backup, disaster recovery, and business continuity solutions – Most small businesses couldn't afford to maintain an offsite backup and failover site, but the cloud provides it at a fraction of the cost.
Keep in mind that even if the cloud doesn't actually save you money, you are still benefiting from the additional functionality, flexibility and scalability, which is inherent to the delivery model. Those benefits will generate a return on the investment.
At this point, resistance is futile. The cloud is the preferred delivery model for most business applications and systems, and its pervasiveness will only continue to grow. Chances are that your business is already using the cloud for backup, email or a business application, so you have already dipped your toe into the pool. If you have not embraced the cloud yet, you will want to start thinking about how it could be integrated into your next technology upgrade or system refresh.
So, go to the cloud with your eyes wide open—you will not be paying less for more complex systems. The dollars in your budget will shift. You will be paying less on hardware and you will be paying more for IT support of those complex systems…however you will reap many benefits.