Marketers constantly tap their creative resources, including new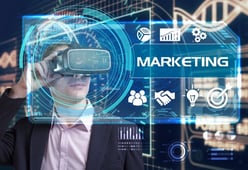 technology, to promote their company, products and services effectively. So, when it comes to Virtual Reality (VR) the question is not really "if" but when, where, who, and how. When will marketers use VR to communicate their company, product or service experience? Where is it best used? Who will most
benefit from the VR experience? How will VR contribute to the bottom line? If used wisely, VR is a springboard to competitiveness for small and large businesses alike.
VR Adoption
According to Tractica, more than 200 million consumer virtual reality headsets will be sold worldwide by 2020. With this in mind, marketers need to take advantage of this growing phenomenon while they can. When TV and social media first started to become popular, the companies that established themselves early earned massive gains.
How EXACTLY will VR change marketing?
VR gives marketers an opporunity to create a story and tell it to their customers through a VR headset. When a business uses a storytelling focus, they can connect with their customers in a way that traditional marketing can't. People will be able to do things they may never be able to experience through these headsets. They can climb Mount Everest, explore the Grand Canyon, and maybe even walk on the moon. Marketers will be able to create these marketing experiences for their customers to actually live through. For example, a sports store could create an experience that allows a customer to play baseball with the pros.
Businesses will be able to create campaigns that are more interactive. This world is full of so many distractions, and VR allows marketers to hold a captive audience. In addition to creating experiences for customers through virtual reality, marketers could also demonstrate products, for those that need to "try before they buy." Car dealerships may use this technology to allow people to test drive a car in the comfort of their own home.
VR Analytics
The best part of marketing with VR goes back to the analytics the software will provide. Virtual reality analytics can determine what product a customer is most interested in, what parts of the presentation are engaging, and which customers seem most likely to buy.
How can your business get started using VR?
The good news is incorporating VR in your business marketing plan is actually relatively cheap and simple. Many researchers suggest that smaller businesses start by implementing VR into their marketing plan with a 360 degree video. This could consist of a short tour of your building, a display of your products, or a sneak peek into a service your business provides. By creating a 360 video, you will engage your customers into the start of your VR marketing plan.
The technology behind a VR headset can completely change marketing in the next decade. The possibilities of virtual reality are truly endless and allow for a wide range of creativity. Get ready to put on your own headset and dive into the future!
Resources:
http://fortune.com/2016/01/21/200-million-vr-headsets-2020/
https://blog.influenceandco.com/how-virtual-reality-is-changing-content-marketing