"If you can't measure it, you can't manage it."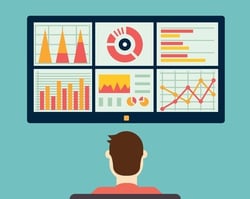 -Peter Drucker, Management Consultant

Business owners and managers are confronted daily with reports from their accounting system, reports from their HR system, and reports from their CRM system—plus numerous other spreadsheets containing multiple data points that may be important! One could spend hours poring through reports and spreadsheets and still not come up with the key data to help measure performance of a company or department. Have you felt that pain?

So what's the solution?
Dashboards provide business owners and managers with quick access to critical information needed to manage operations and make the important business decisions which help steer the company. If you currently have too much or too little data, or you are maintaining whiteboards or other manual processes to provide the data you need, keep reading. I think you will be thrilled to find a better way—a way that impacts your success.
What's in a dashboard?
The most powerful dashboards display Critical Success Factors (CSF) that are key to your business. The premise behind CSFs is defining the three to five critical measures that you must know on a daily basis to be certain your business is on track to achieve its goals. Presenting this information on a dashboard provides you a visual and interactive display of the critical data points driving your business. As a business owner or manager you are then able to review your dashboard for 15 minutes each morning and evening to obtain the information you need to make better business decisions.
Painting the dashboard picture
Your CSFs are laid out strategically upon a very visual screen that is color coded to show factor threshold. The typical color coding you will see includes:
Green for data that meets or exceeds pre-established thresholds,
Yellow for data that is just below minimum thresholds, and
Red for data reflecting serious underperformance in that defined Success Factor.
Dashboard users are given the capability to drill down into each of the CSFs to view more detailed data for in depth analysis.

Tracking data
You will need to determine what CSFs are best to track based on your business and industry. CSF would be data points that are critical for management to maintain a pulse on the productivity and profitability of their business. Most of the time development developing a dashboard is an iterative process starting with the basics and then adding or modifying data points with user experience. A number of great business consultants are available for you to turn to if you need assistance with this.
Just to give you an idea of what you may be tracking, here are some general CSF examples based on several industries:
Retail or distribution - Total sales yesterday, sales month to date, gross margin on sales yesterday, gross margin on sales month to date, and receivables average days outstanding.
Manufacturing - Employee productivity, units produced yesterday, units produced month to date, and number of units failing quality assurance.
Businesses with a help desk function - Average number of calls in queue, average wait time, average after call work time, and number of truck rolls.
After determining your CSFs you will then conduct a review of dashboard applications that has data source connections to the data stores you need to access. While the development of CSF dashboards is time intensive the time is well worth investing in order to provide you with the concise data you need to effectively manage your business.