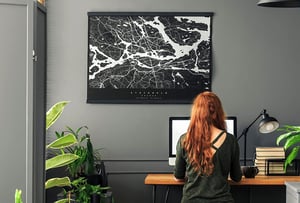 With the right company culture and technology tools, it's possible to work effectively and efficiently while outside of the office. Given access to email, chat, video conferencing, cloud collaboration tools, and more, there aren't a lot of office jobs that can't be done off-site. Studies show that flexible work options reduce turnover, improve morale and to top it all off, over two-thirds of employers report increased productivity among their telecommuters.
Taking all this into consideration, it's no wonder why the number of people spending at least some of their hours each week working remotely is continuing to rise. When a business decides that allowing their staff to work remotely could positively impact their business, there are some steps they need to take to ensure that they have the proper security measures in place. Here are a few items your business should implement to thwart a cyber attack:
Virtual Private Network (VPN), Firewalls & Antivirus
A VPN protects your data on the web, firewalls are used to protect the data on your computer and antivirus keeps an eye on the files and programs on your computer to protect your device against malware. These three items work together to provide a great base for well-rounded protection. It's also important to monitor your security software to ensure that it's always up-and-running, as well as functioning properly.
Invest in encryption
Since you're going to be communicating mostly over the internet, it's important to have a way to send confidential information securely. If you're going to discuss private company information, send financial info or handle anyone's personal data, these things need to be encrypted. This way if your email is intercepted, the hacker will not have the key needed to decipher the information they got their hands on.
Cybersecurity awareness training
It is key for employees to undergo training to prepare them to avoid phishing emails, ransomware and the like. Training is especially important for staff members that aren't physically sitting right next to each other. In an office, if you get a weird email from the person sitting across from you, it's easy enough to ask what it is and figure out if it's legitimate or not. However, when almost all of your communication occurs over the internet, it can be harder to tell what's out of character. So, it's imperative to keep remote workers in the loop with what's going on in the office as well as arm them with the knowledge of how to spot red-flags.
Alternatively, here are some things you should warn your remote staff to not do:
Don't use your personal computer to access company information.
Don't share your work laptop or computer.
Don't carelessly open emails, download attachments or click links.
Don't download unauthorized software or applications.
Don't access public networks, unsecured connections, unrecognized Bluetooth connections etc.
However, if you believe company data has been compromised, DO report the incident immediately.
If you're looking for an IT Service Provider to help get your business ready for remote workers, give us a call at 402.398.9580. We can help you set up security measures to make your business just as secure with your staff working remotely as it would be with all your employees working under one roof.
Sources:
https://globalworkplaceanalytics.com/resources/costs-benefits
https://www.forbes.com/sites/larryalton/2017/03/07/are-remote-workers-more-productive-than-in-office-workers/#996c4e131f67