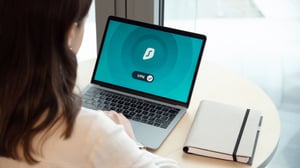 Securing your company's data while your employees are working on the other side of the corporate firewall requires investing in the right tools, establishing clear guidelines and training your staff to take initiative in matters of cyber security. You may feel as though you have less control over your data during this challenging time, but with the help of a managed services provider (MSP), you can protect your company from disastrous data breaches. Here are the basics of keeping your data safe while your workforce is spread out and working from home.
Provide Devices
Equipping your employees with company devices creates less risk. When employees use their personal devices for work, the lines get blurred: other people in a family may use the same device, and it can be easily compromised by activities like checking personal email and downloading files. A work-only computer, tablet or phone not only simplifies separating work and personal business, but also provides you with more authority to set parameters for how the device can be used.
Invest in Smart Security Products
Remote work can make your company more susceptible to cyber threats unless you take advantage of security tools like a virtual private network, data encryption, cloud backup, monitoring tools and anti-malware/antivirus software. Choose security products that will allow you to be vigilant without wasting valuable time and energy that could be devoted to day-to-day operations.
Sometimes companies learn about threats too late and are already several steps behind once the data recovery process begins. Server monitoring and additional security tools allow you to take a proactive approach and learn about threats as they're developing so you can respond immediately.
Train Your Employees in Cyber Security Awareness
Your security tools are only as good as your employees' understanding of your company's cyber security guidelines. It only takes one mistake to compromise company data, which is why it is vital to be clear about your expectations. Require your employees to undergo ongoing, comprehensive cyber security awareness training and make them assets in your cyber security strategy, not liabilities.
It's also important to establish acceptable use policies that provide clear instructions for your employees to follow. A few suggestions include:
Use unique, complex passwords and change them regularly
Use multi-factor authentication
Don't allow kids to access work computers
Don't leave work devices unlocked
Use work devices strictly for business
Don't join public Wi-Fi or connect to unknown devices
Be aware of email security and phishing attempts
Use only the company's recommended apps and software
It's common for employees to feel a bit of discomfort transitioning to remote work and having fewer barriers between their personal and professional lives, but you can make the change easier on them by communicating your requirements and expectations.
How an MSP Can Help
Cyber attacks can occur at any time and compromise the financial health and reputation of your business. While a dispersed workforce can heighten those risks, an expert MSP with comprehensive knowledge of cyber security solutions can help prevent your data assets from being compromised.
CoreTech offers an array of IT support and IT security solutions, including cyber security assessments, secure cloud services implementation, network server monitoring, and cyber security awareness training. We develop an accurate understanding of your security weak spots before tailoring a customer-centric, layered security solution that will provide comprehensive protection for your business.
It's never too early to start protecting your business. Contact us today to get started with a cyber security assessment.