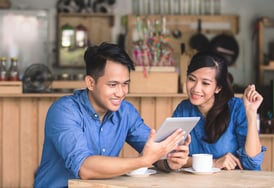 Backing up and protecting your business's data is a must! But how do you securely and continually backup your data when you're always on the move? Fortunately, even if you're rarely at your desk or even in the office, there are several ways to ensure your data is consistently backed up and secured. Read on to learn more about the mobility of modern data backup solutions.
For those who are constantly traveling, attending meetings or functions outside the office, working on client sites, or the like, you need a data backup service that works quickly without being intrusive - and works regardless of your physical location. This is where Acronis Cloud Backup comes into play. This is a service that CoreTech has recently started offering, as an alternative backup solution to our on-premise offerings.
The way the Acronis Cloud Backup solution works is very simple and straightforward. A backup agent is installed on your computer, and it will run in the background. Whenever you're connected to the internet and working, the agent will backup your data to the Acronis Cloud Server. Additionally, after the first full backup, it won't take very long to perform subsequent backups. Of course, this means that when you're not connected to the internet, the data will not be backed up. In the meantime, your data will be able to be saved onto your device and will be backed up as soon as you gain internet access again.
If you're interested in learning more about Acronis Cloud Backup or any of our other business data backup solutions, give us a call at 402.398.9580 or email us at info@coretech.us.