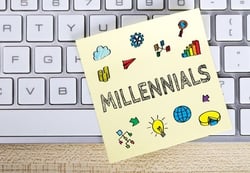 Is putting forth the effort to attract and hire millennials worth it? If you knew they will make up half of the global workforce by 2020 would this influence your decision? It's true, as more and more millennials are entering the workforce, it is important to understand how to interest and hang onto these valuable assets. So what is the best way to go about this?
Before we look at some things you can do to attract millennials, let's take a step back to find out what these individuals value in a company. The 54 million adults between 18 and 34 in 2015 have some definite commonalities in what motivates them to choose a workplace. One of the biggest factors that the majority of them agree on is their need to grow. Many millennials are looking for opportunities to help them climb the ladder, even if it means climbing out of your company. They are also looking for a "sense of purpose" in a company, or a chance to be a part of something bigger than just company profit. Finally, they are looking for a coach rather than a boss, someone to lead not just command.
So as a business, how can you become more attractive to this potential workforce considering their wants and needs? Let's explore some options:
Don't slow them down.
If one of your millennial employees is looking at opportunities to grow outside your company, you need to realize that they could be searching for personal benefit or growth. Try not to be bitter about this realization, instead, take it as an opportunity to further challenge them with more advanced work or even show support of their transition. By becoming invested in your staff's personal growth, they will become more connected to you, their fellow employees, and the company.
Provide career develop opportunities.
By providing career development opportunities within your company, you are supporting millennial retention. Start by opening the conversation about careers. These discussions will help employees feel comfortable sharing their desires, as well as provide you information on how to help. A career lattice, similar to a career ladder, can also prove worthy to keep millennials. A lattice provides the opportunity for movement not just up, but vertically, allowing individuals to change career paths within your organization. Finally, accept feedback on your career development programs that you do or do not offer. There might be room for improvement or something employees are looking for that you haven't even thought of.
Develop a strong mission, vision and values.
In a study completed by Microsoft, 88% of respondents said that they pick companies based on whether they have clearly defined values and a strong mission. Your business's mission statement should be recognized by staff and considered every day. Proving that you are dedicated to your mission and vision will give staff a sense of purpose in their work life.
Be an available leader.
Millennial employees expect their leaders to be accessible, and their bosses to be more like mentors. Be reachable to your employees and arrange regular check ins to reflect on their progress and determine new goals. With the guidance and support they will be receiving, employees will know they are a valuable part of the team and have confidence in their leader's direction.
If you are serious about getting millennials into your workplace today, follow these tips. They will not only be willing to work for you, but will actively be seeking you out. The workforce is obviously changing and it's up to you to give your company that leading edge with millennial talent.
Sources:
http://www.forbes.com/sites/jefffromm/2015/11/06/millennials-in-the-workplace-they-dont-need-trophies-but-they-want-reinforcement/#6b93edd65127
http://www.forbes.com/sites/robertamatuson/2015/01/15/purposeful-hiring-how-to-attract-millennials-to-your-workplace/#769cd1015dda
https://blogs.business.microsoft.com/en-us/2016/02/12/4761/