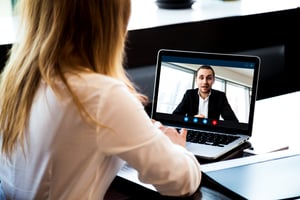 There's no question that telecommuting is beneficial for businesses in many ways. With no long commutes in traffic or sticking to rigid schedules, employees enjoy a better work-life balance. Office space, equipment, furniture, and supplies are needed in smaller quantities — which saves money for businesses. And most importantly, more than two-thirds of employers reported increased productivity from their telecommuting staff.
Still, despite the benefits of reduced costs, more flexibility, and increased productivity, there's still one major element missing from working remotely that can't be overemphasized: face-to-face communication. Without it, employees can feel isolated and/or disconnected from both their teams and the company as a whole, which can negatively affect collaboration and productivity. So how can companies ensure their telecommuting employees still feel like an integral part of the team and company, even when they're not physically on-site?
Enter video conferencing solutions. Here's how video conferencing enables you to maintain remote — or even multi-office — staff, while still enjoying the benefits of face-to-face communication.
Benefits of Video Conferencing for Remote Employees:
Streamlines Collaboration
Email is a crucial tool for any organization, but today, there are other options that can be used for more expedient, organic communication. Instead of a lengthy email thread, video conferencing is direct and allows for collaboration in a way that email can't match.
A quick virtual conference call via video chat allows all parties to chime in at the same time and make decisions on the spot. By helping remote workers integrate more seamlessly, meetings become more productive and team communication is stronger.
Chat can be a good substitute for face-to-face communication, but often the constant flow of information means important bits can get left out or even be misunderstood. Voice and facial cues provide important context — in fact, 80 percent of communication is visual. Video chats and meetings give staff a stronger read on the expressions of others and increase engagement on both sides. With less risk of misunderstanding, video conferencing allows workers to communicate more clearly — and therefore make more accurate decisions based on feedback — than any other way of communicating remotely.
It's common these days for businesses to have at least a few remote or mobile workers. Whether it's managers and directors who work while traveling, technicians and salespeople who spend their days in the field, or even an entire team of employees who work from home, video conferencing provides the immediacy and efficiency of face-to-face conversation even when teams are not in the same room with one another. In fact, 87 percent of employees have said they feel more connected to their teams and the organization overall when using a teleconferencing platform.
Reduces the Cost of Travel
Today's workforce is undeniably distributed. Businesses often have mobile workers, clients spread across the globe, along with external vendors. Communicating with all these parties face-to-face just isn't feasible, both organizationally and financially. Of course, nothing will ever replace live interactions with important stakeholders and associates, but video conferencing can dramatically decrease your travel budget.
You will save on flights and other transport, per diem expenses, and time lost on the clock for an average business trip. With high-definition audio, international capability, support for simultaneous video feeds, and integrations with email and calendars, a video conferencing tool makes the experience as close to face-to-face as possible.
Video conferencing is just one important avenue of your business communication strategy. With a unified communications platform, you can combine your phone systems, instant messaging, web conferencing, and screen sharing into a single convenient platform. Our expert IT staff is here to help you design a customized solution for you business that will make collaboration easier, no matter where you're located. Contact us to get started, and experience everything video conferencing has to offer.