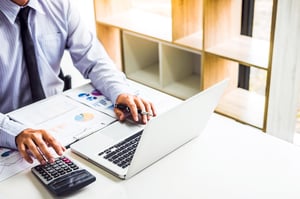 Whether you spend most of your time working in your line of business applications, on your internal network or communication tools, in the cloud - the technology you use every day is critical to both your present success and your future growth. To support the effectiveness and efficiency of your technology, businesses need to create a dedicated budget for IT that takes into consideration both their size and specific needs — but how do you strike a balance with your IT budget to ensure that you're not overspending and wasting resources or under investing and lacking in support? Read on to find out what the average business spends on IT, and how you can create a practical tech budget for your own company.
Understand the Average Cost of IT Support Services
IT budgets should account for variables like business size, goals, and needs. Even so, understanding industry averages will help serve as a baseline for what your organization can expect to spend.
A recent study reports that the average business spends 3.28 percent of its revenue on general IT costs. While, banking and securities firms spend the highest amount (7.16 percent), the construction industry spends the least (1.51 percent). As higher levels of IT spending can be seen as critical for maintaining a competitive advantage, certain industries are increasing their overall IT budgets. From 2016 to 2017 the following industries reported increasing their IT budgets by 50 percent or more: insurance, health care services, travel, media and hospitality, education and nonprofits, banking and securities, and manufacturing. When it comes to the average cost of IT support services, the average small or medium-size business spends anywhere between $125 and $200 per user per month.
Budget for Cyber Security
With the continuously evolving nature of the cyber-threat landscape, cyber security threats become more sophisticated all the time. However, the same is true of cyber security tools and applications. This is why it's important to stay on top of IT security - so as threats evolve, so do your defenses.
In order to combat the increasing risk of cyber attacks, businesses are dedicating a portion of their IT budgets to security measures such as antivirus solutions, endpoint protection, network security hardware, and employee awareness training. Taking a proactive approach to security can minimize the risk of a major data breach and its consequences (extreme repair costs and fines). According to IBM, businesses should be dedicating from 9.8 percent to 13.7 percent of their IT budgets to cyber security.
Determine Your Specific Technology Needs
What role does technology play in your business? Beyond the basic employee workstations, if technology is necessary to your product or the way you deliver your services, your IT expenses may be higher than average.
The first step in creating an IT budget that's specific to your needs is to inventory your current hardware. The total count of devices you use will be a good measure for how much you should budget for their support or replacement in the event of equipment failure. Next comes evaluating all of your software to decide what you need to keep and which you can eliminate - keep in mind that this is an area in which businesses tend to overspend. Consider options like cloud computing to streamline outdated solutions that might be costing you more than you really need to spend. Finally, you'll want to examine network services and data connections to decide what you need to keep and what you can upgrade in the next year's budget.
Get a Risk Assessment
To determine the most practical IT budget possible, you'll need to identify possible risks to your systems and data. Although there is no way to ensure 100 percent protection, knowing where your vulnerabilities lie is essential to mitigating risk. A risk assessment will find the gaps in your IT security strategy so that you can design a plan to fill them in accordingly.
After your systems, policies, and procedures have been reviewed, you'll obtain a set of recommendations for adding new applications, equipment, and effectively reconfiguring your network. From these suggestions, you'll need to decide what is most urgent and necessary, so that you can plan to budget accordingly.
When you partner with an IT managed service provider, you can rely on an experienced team to oversee and support all of your back-end infrastructure, perform hardware maintenance, and keep your security measure up-to-date. This can drastically reduce expenses when compared to employing your own team of internal IT experts. Check out our pricing and services or contact us to learn how we can offer scalable and affordable solutions to manage your daily IT operations for the peace of mind that you deserve.