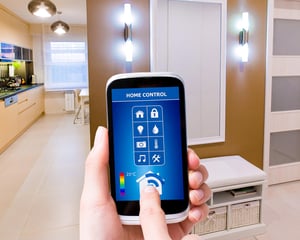 You wouldn't throw your financial paperwork in the trash without shredding it - or at least, you shouldn't. Because you know that if someone got a hold of that information, they could potentially steal your money. But what about your IoT devices? Are you as careful when disposing of them? How much information is on smart devices you've connected in your home? When it comes time to get rid of them, there may be enough information left on them to open your home to someone trying to steal your data.
Take something as simple as a smart light bulb. You screw it into a lamp, download an app onto your smartphone, connect to the light bulb, and you are then able to turn your lights off or on from anywhere. Even with that simple setup, the light bulb now has access to your personal, internal network. So, if someone is able to hack into your smart bulb, or take it from the trash, they can gain access to your network. If something as simple as a light bulb can pose a risk to your cyber security, consider what someone could do with a more complex IoT device.
Check out the full article from Paessler to find out what type of information may be on your devices and how easy it may be to gather: https://blog.paessler.com/what-iot-devices-from-the-trash-reveal-about-their-former-owners
For the security of your data and personal information, be sure to use a reputable electronics recycler. When it's time to get rid of your devices, keep in mind that even smaller, seemingly insignificant IoT devices can pose a threat to your data security.
If you need assistance on finding the proper way to dispose of certain electronics or IoT devices, give us a call at 402.398.9580. Or, you can send us a message.