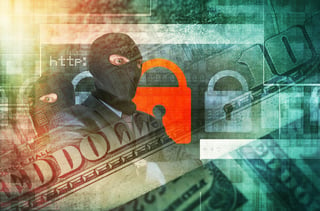 Erase the stereotypical image of a lone, hooded man sitting in a dark room, stealing information to exploit for money. Cybercrime has become a well-oiled machine comprised of networks of organized tiers. In essence, an unethical service-based corporation, everyone has a specific job that contributes to the success of the business. Some cybercriminals are experts in hacking and stealing information, while others are good at turning that data into profit. Unfortunately for us, they have all found their way to each other and have learned that working together can be more profitable than lone-wolfing it.
The ease of being able to find allies on the dark web and join a network is one of the reasons why the cybercrime has become the fastest-growing criminal industry in America. As opposed to more traditional unlawful activities where you are generally brought into a group through a nearby, personal connection, hackers have the ability to use forums in order to recruit others. On these forums, hackers can climb the ranks by doing different tasks and getting rated on how well they performed. Much like the seller rating on eBay, this ranking lets the hiring cybercriminal know who they can "trust" to carry out a job effectively, and who they can't. Below you will find an example of how a cybercriminal network can look.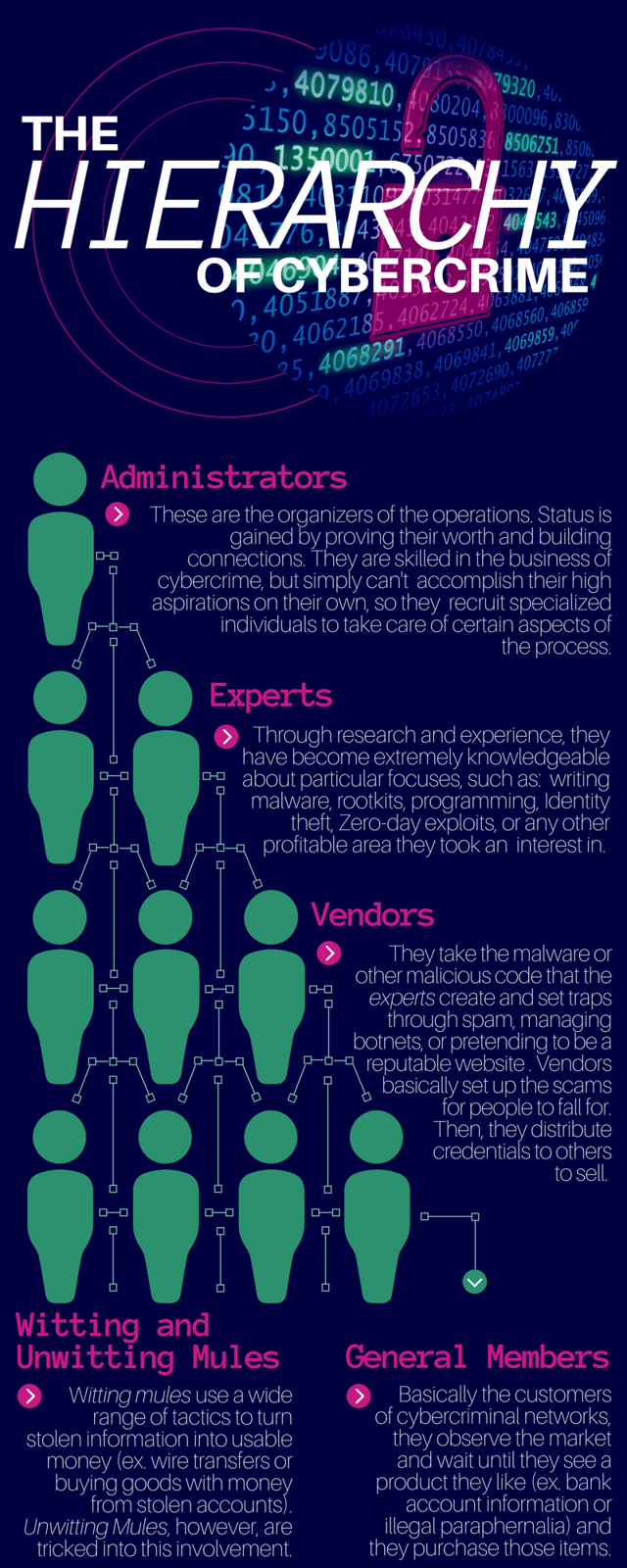 The Administrators, shown at the top of the pyramid stand to profit the most from their business. The less experience and status you have, the lower you are on the pyramid. Due to their lack of knowledge, new recruits are more prone to making mistakes and getting caught. Despite the risks, there is an influx of information being pumped out on search engines and Youtube for beginners. This information teaches interested newcomers how to complete hacks and utilize exploits, and their ranks keep growing.
Another parallel between these criminal networks and legitimate businesses is that brand value matters. These networks need to prove that they are reliable and sell quality products. For instance, if someone sold a piece of software with a backdoor (so that they had access to that product even after it was sold), when it's inevitably found, demand for their untrustworthy products will subside. Supply and demand are also big factors in this marketplace. Big security breaches can flood the market with supply, which will drive the price of stolen information down. In addition to buyers and sellers, this market intermediaries come into play (especially when buying higher-priced items). Their job is to act as middlemen between the buyer and seller. They verify the validity of the product on the seller's side and the compensation on the buyer's side, while keeping the identities of both parties confidential.
Substantially more comparable to a business structure than one would think, the world of cybercrime has come a long way since the days of hackers working alone to achieve their means. Thankfully, with the addition of trained law enforcement members, police and the FBI are catching up with some of these culprits. However, at this time the lucrative business of cybercrime seems to be drawing people in faster than law enforcement can react. But there are still a lot of factors that could break their system, whether that be vigilante hackers or just a large enough depression in their economy.
Regardless of what happens to this criminal enterprise, we want to help keep your data and personal information safe. If you feel you may need to amp up your security, give us a call at 402.398.9580 or send us an email at info@coretech.us. We would be happy to help you.
Sources:
https://www.csoonline.com/article/2938529/cyber-attacks-espionage/cybercrime-much-more-organized.html
https://academic.oup.com/bjc/article/57/3/704/2624001#64177811
https://www.wired.com/insights/2014/10/cybercrime-growth-business/
https://www.rand.org/content/dam/rand/pubs/research_reports/RR600/RR610/RAND_RR610.pdf
https://www.bullguard.com/bullguard-security-center/internet-security/internet-threats/online-black-market-part-i.aspx