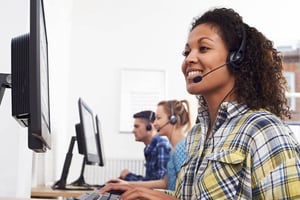 As a small-business owner, utilizing outsourced IT support is critical to helping your organization run smoothly and achieve your business goals. But how do you know your outsourced IT support provider is giving you their best service? There are a number of questions you should consider when evaluating your IT support.
Does your outsourced IT support provider ask for feedback?
Do they routinely send you customer surveys to find out how you think they are performing? After resolving a ticket, do they send a survey asking for your feedback on how they did? If you give them poor ratings for a specific category, do they contact you to find out more information?
Your outsourced IT support provider should always be seeking to improve their performance based on your experience.
Do you get timely responses and solutions from your provider?
When you reach out with a problem, does your outsourced IT support provider get back to you right away? In tandem with that, do they come back with a prompt solution, or does it take several days? Do you feel like a priority?
How well do they communicate with you?
What level and type of communication do you have with your outsourced IT support provider? Do they communicate using complicated technical terms, or do they use verbiage you can understand?
Is your IT support provider proactive?
When something looks out of place or isn't functioning the way it should, does your IT provider notify you?
For instance, if they notice your hard drive starting to fill up, and it needs to be upgraded: Do they call you to discuss? They should be proactive, not just reactive. You should know they are watching out for your organization and your IT needs.
Do their IT solutions make sense for your company?
Your outsourced IT support provider should get to know your business, your processes and the goals you want to achieve. When they do, they can tailor solutions to help you meet those needs, and they can do so with cost-effective solutions that fit your budget.
Do they perform timely reviews with you to stay current on your business operations?
In order to give you the best service, your IT support provider should be invested in your company's growth and evolution. They should be meeting with you regularly to find out what you are doing today as well as what you plan to do in the future.
Are you planning to bring on more staff? When do you think you will need to upgrade your computers? They should help you create a roadmap and provide suggestions for what you need to do and how you should budget accordingly to accomplish those goals.
Is your outsourced IT support provider overly salesy?
Instead of trying to upsell or push products on you, your provider should be building a long-term, trusting relationship with you.
Do they work with third-party vendors/software providers/ISPs when it's not a network issue?
A quality outsourced IT support provider should be able to help you resolve issues with software or internet service, rather than forcing you to resolve it yourself with a software manufacturer or ISP.
Do your IT provider's techs talk to you with respect?
Does your IT support provider take the time to really listen to you? Do they come across as condescending? Do they simply do what they want instead of consulting with you?
Are you getting a good return on your IT support investment?
When evaluating the service from your IT support provider, are you getting what you were promised? Do you feel like your money is well spent?
Evaluating your outsourced IT support provider is essential to making sure your business receives the IT solutions it needs to grow and thrive.
To help you review your current IT support or to discuss how CoreTech can customize outsourced IT support for your organization, contact us today.