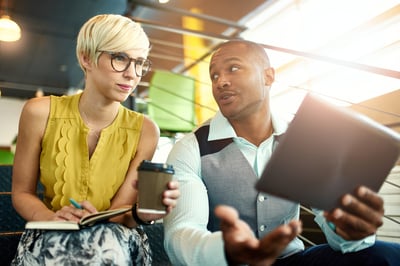 Facebook was under fire recently for hackers' hijacking personal and business pages. Profile users were emailed that they were removed as the page manager. Victims were left wondering how hackers could access their pages, even though they didn't click any suspicious links. Facebook is currently in the process of rectifying the situation.
Social media attacks are a growing problem. The 2021 Identity Theft Resource Center (ITRC) reported a 1044% increase in social media account hijacking from 2020. Hackers take free access to end users, manipulating them through phishing campaigns and social engineering tactics for private information.
Is your business using social media to connect with employees, clients, and prospects? Then it is important to ensure your company profiles remain secure. Read on to learn common ways hackers break into social media profiles, how they spread malware on social media, and how you can keep your profiles safe.
How hackers break into social media profiles
Unfortunately, there is more than one way for a hacker to break into your business's social media account. They can attempt to gain access through:
Brute Force Attacks
Similar to using a ram to break a door down, hackers will use brute force software to enter different username and password combinations until they find the correct one. Because most business pages are connected to personal profiles, they will try keywords based on information found on your social media page, such as your maiden name, pet name, or children's birth date. Once they've gained access to your social media account, they may also enter those credentials into other business platforms to see if you recycle your password and break into your system.
Dark Web
Malicious actors can also find hacked profile pages on the dark web for sale, including software and instructions on gaining access to the account. The instructions to do this cost about a dollar, making it simple for other hackers to breach into the compromised profile without your knowledge. Be aware that cybercriminals can also find private information on the dark web, such as Credit card numbers, bank account routing numbers, and more, available for purchase.
Direct messages (DMs)
Hackers will contact you through your direct messages (DM), pretending to be someone you know, such as a coworker or manager or a company you have an account with. They'll send an urgent message claiming they need your help with something or suspicious activity in your account, asking you to click the provided link. Should you click the link, you will have accidentally given them access to your page.
Hackers usually try to gain access to multiple accounts at a time until their efforts are successful with one account. From there, they will convince your contacts to release private information to sell to the highest bidder or click on a link that could contain a virus.
How cybercriminals spread malware on social media
Once the malicious actor enters your social media profile, they aim to manipulate as much information and money from those you connect with online by pretending to be you. Here's how they try to engage with your followers:
Direct messages (DMs)
Just as they contacted you through your direct messages, hackers will recycle the same tactics when communicating with your followers, using your business profile's legitimacy to contact prospects and clients you engage with to click on malicious links for a "prize" or pay an invoice. Because it's through your existing account, your followers will be more inclined to give the hacker what they ask for and may not realize the mistake until it's too late.
Comments
Attackers will then engage with your audience by leaving comments containing malicious links, incentivizing clicks with buzzwords such as "freebie" or "BOGO." They'll personalize the message based on the profile's interests to make it more legitimate and enticing. The link will then redirect to a phishing page designed to steal your credentials, which they will use to try and access private accounts.
Advertisements
Just like businesses post advertisements on social media platforms, hackers create ads claiming they're giving away free money or an opportunity to invest in cryptocurrency. They will tag multiple people simultaneously, hoping someone will click on the ad without putting much thought to the content. Once the ad is clicked, the hacker will take over their profile and continue spreading malware to other profiles.
If your business page becomes compromised, your reputation could be damaged, and you may lose followers and even clients due to the data loss. Keeping your personal and business profiles secure is essential to build connections with people worldwide.
How can I keep my social media profiles safe?
Social media platform developers are still in the process of providing security when widespread breaches occur. But there are preventative measures you can take to make it harder for the hacker to break in.
Create phrase-like passwords: The longer they are, the better. They could include a song lyric or a football team, and adding characters makes it more unique. Your password will be harder and more time-consuming to crack, so they'll move on to another target with a more accessible password.
Enable multi-factor authentication (MFA): Some social media platforms allow you to use MFA as an extra form of protection, depending on your device. If a hacker manages to guess your password and try to break in, you will immediately be notified of their attempt and block them out before potential damage can occur.
Never click on suspicious links: If someone you follow contacts you, send them an SMS or call them to verify what message they are sending on social media. If a business is trying to reach you about a financial topic, most of them won't try to contact you through your profile or DM's but rather through email (though you should be wary then, too).
Put your account on private: While you want your business page to remain public, changing your account to private limits who has access to your personal life. As a result, gathering information for a potential breach will be harder for a hacker.
If your business account is hacked, notify upper management and your IT provider. And report the problem to the corresponding social media platform.
Conclusion
Maintaining an online presence is important for your business to gather leads and consumer information and build a community. As cybersecurity issues continue circulating on social media, we recommend implementing safeguards to keep your data and followers secure.
If you'd like to learn more about cybersecurity threats your business is vulnerable to, contact us today for a free risk assessment.
Additional Resources