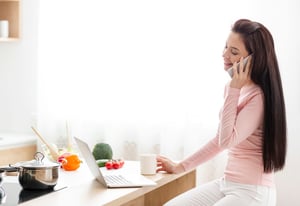 Phone technologies date back to the nineteenth century, and our business phone systems have come a long way since then. But, no matter what industry you're in, a phone system is one of the main modes of communication your company has with anyone inside or outside of it, including your customers and vendors.
Of course, the downside of an office phone system is that it's, well, stuck at the office, right?
With a lot of employees working from home or otherwise mobile, it can be a challenge to receive your business calls when you're not actually at your desk.
But getting those calls doesn't have to be complicated. Today's technological options provide myriad ways to stay connected at your house, the local café or even if you're traveling.
Is your remote workforce lacking mobility and flexibility?
Get your business phone calls at home.
There are ways you can get business calls while you're at home, such as call forwarding to a cell phone or a home phone number.
With a VoIP, or voice-over-internet-protocol, phone system, you can bring your desk phone home, and with a little bit of programming, you can use the phone in "teleworker mode."
Get your business phone calls on the go.
If you're not at home and don't want to bring your office phone home with you, there are other alternatives to ensure you can stay in the loop.
Some newer phone systems allow you to use a PC application to turn your computer into a "softphone," meaning you can make and answer calls from your computer. These features can be configured when your phone system is first installed, requiring no additional programming in the future.
You also have the option to use a mobile application with some phone systems, but your organization may incur additional costs for mobility licensing.
Another great feature, on both the softphone and mobile phone options, is the ability to make calls using your office phone number. Even the caller ID shows up as if you are dialing from the office.
You're no longer bound by the walls of your office or cubicle.
As long as you're working somewhere with a secure internet connection, you can make and receive calls from anywhere when you take advantage of a modern business phone system.
Of course, you may need a speaker and microphone if your PC doesn't already come equipped with them, but the experts at CoreTech can help you determine the best phone and technology equipment for your company's remote work needs.
Contact us today to learn more about our unified communications and business phone system options—or simply leave us a comment below. We'd love to hear from you!