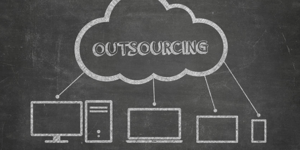 As an Omaha or Lincoln business owner, you have a lot on your plate. Keeping up with changing technology trends and keeping your company's IT up and running shouldn't add more to your already overwhelming schedule.
Outsourced IT providers can take on any or all your technology needs, including things like network monitoring, device management, IT security, cloud computing, and more. They'll free up time in your jam-packed schedule, letting you get back to what matters most to you: your business.
5 reasons to hire an outsourced IT provider
They know technology and how to apply it.
They know the services and solutions they offer, in and out
They provide strategy, not just technology
Your IT team is always on and available
They'll help make your business more competitive


1. Outsourced IT firms know the field of technology
Managed IT companies work with a range of clients, and every one of those clients has different technology demands to keep up with their industry. They've seen it all, and they know what would best fit your company's needs and goals. From the day-to-day fixes on up to the strategy to implement, they are there to help your business get ahead.
They also keep up to date on the latest technology trends, including software, apps, and other pieces of technology that provide a considerable launchpad for business growth.
2. They know the services and solutions they offer in and out.
Everyone on the team at an outsourced IT company brings different skills and expertise to the table.
From system administrators to engineers, as well as executives with keen business acumen, everyone in an outsourced firm wants your business to succeed. So, they'll put their numerous skills to use researching and recommending tools you might not otherwise have knowledge of or access to.
3. They provide strategy, not just technology.
Buying equipment for your business is only a part of the solution—you need the right technology for your business in order to reach your goals.
How is that accomplished? Through technological planning and strategy.
With a top-tier outsourced IT provider, your Omaha business helps with IT planning and budgeting. They'll help you build a technology roadmap and meet regularly for strategic business reviews to make sure that your goals and your technology stay aligned. They'll also assist with budgeting to make sure that your investments aren't breaking the bank.
4. Your IT team is always on and available
With an outsourced IT service provider, you don't just get a single IT person assigned to your account.
There's no "What if he or she takes a day off and my system goes down? What if I have no one to call and my company goes offline?"
Since the outsourced firm's entire team acts as an extension of yours, your company receives redundant coverage from expert professionals.
Your network and systems won't be left unattended, and you'll never be left hanging if something goes wrong and your usual point of contact is out of the office.
Even IT technicians need a day off now and then, so it's a great idea to have an entire outsourced IT team in your corner—for even more peace of mind.
5. Outsourced IT providers make your Omaha or Lincoln business more competitive.
Since you won't be paying for the salaries, benefits, and training of an internal IT team, you'll see considerable savings.
You'll only pay for the services and technology your business needs. That means you'll be able to funnel those dollars into other aspects of your business. And continue crushing your competition!
Ready to see how outsourced IT can help your Omaha or Lincoln business flourish?
CoreTech has over 20 years of experience providing top-tier managed IT service and support to the Omaha, Lincoln, and Council Bluffs metro areas.
We'll take on any IT needs you have, including server, network, and device management. We'll help keep data secure, and you'll get support anytime you need it.
We also provide proactive, preventative care, as well as alignment with your company's goals through IT consulting, planning, and project management.
Contact us today; you'll immediately experience the difference.