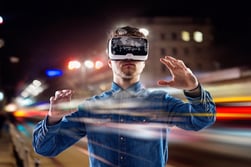 Growing your business with virtual reality
Imagine the day that businesses can step into the virtual reality (VR) world. Surgery centers being able to visualize operations, trucking companies being able to train employees without a vehicle, and furniture companies allowing consumers to visualize the placement of items in their home before buying. You no longer need to imagine that day – we're here!
From the healthcare field to farm equipment manufacturers, businesses are incorporating virtual reality to save millions of dollars a year. Even the world's largest ticket marketplace, StubHub, is taking advantage of VR by allowing ticket buyers to see a 360-degree view from their seat before purchasing their tickets.
So what? These huge companies worth hundreds of millions of dollars are using VR, what does this have to do with small to midsize businesses (SMBs)? A lot! VR is no longer looked at as exclusive to large corporations and there are many ways that smaller businesses have started to incorporate augmented reality into their companies to save money and promote business. Let's look at some ways that SMBs can utilize VR.
Event Marketing
When hosting an event or running a booth to attract potential customers, VR is able to show off the products that they are not able to physically see and touch. Audiences can virtually see, touch, pick up, and put down objects. By marketing products and services to customers and clients through this channel, businesses are creating lasting impressions and relationships. They are also increasing their chances of selling their products and services. VR is an efficient process that can transport interested parties to an environment completely designed by you.
Product Testing
Businesses, like the previously mentioned furniture store, are now using VR to help people visualize the location of items they may purchase. Soon, these items could also include clothes. After a body scan, technology has made it possible for customers to virtually try on clothes before buying. Business leaders can also use this technology to allow consumers to "handle" virtual objects. In this way businesses can present their products to their audience without spending money on the actual prototype.
Research
Virtual Reality is now used to conduct marketing research. Why is this a big deal? Market research is a vital part of running any business, and according to Rutgers, $10.7 billion was spent on marketing,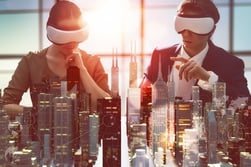 advertising, and public opinion research in 2013.
Imagine redesigning your companies' packaging label and placing it at a particular place on store shelves, then gathering the data on how this switch helped or hurt your sales. Sounds expensive and time consuming. When utilizing VR, audiences can virtually walk through a store, see, touch, place items in their cart or return them to the shelf. This research can allow producers to change the actual design and position based on the buyers' decisions.
It is obvious that Virtual Reality will become a part of everyday business. According to Rutgers, by the year 2020, VR is expected to generate $30 billion worth of revenue. While one of the top VR headsets, Oculus Rift, can cost upwards of $600, there are less expensive options. To dip your toe into the VR world, check out Google cardboard, available from the Google store for only $15. From here, nicer VR headsets can range from $100 - $500. Check out a more detailed list of options here.
Do you have specific ideas for implementing VR in your small to midsized business? We'd love to hear them in the comments below! And don't forget to subscribe to Technology Unwrapped to get the best tech trends and tips delivered right to your inbox.
Resources:
http://smallbiztrends.com/2016/04/virtual-reality-for-small-business.html
http://online.rutgers.edu/resources/infographics/virtualreality/