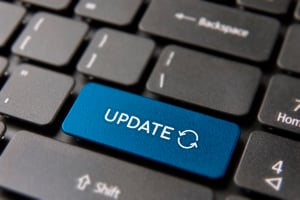 Microsoft pushed Teams earlier this year with a number of features to facilitate collaboration and communication both internally and externally for an organization. Over the year, Microsoft has added several enhancements and improved features that are worth noting.
Some of the more recent customization and noticeable interface updates include:
Keep it secret, keep it safe
To provide you with even more privacy, Teams now lets you turn off message previews in your desktop notifications. Message previews are on by default. To turn them off, go to your profile picture, select Settings > Notifications > Show message preview. From here, switch the toggle to off.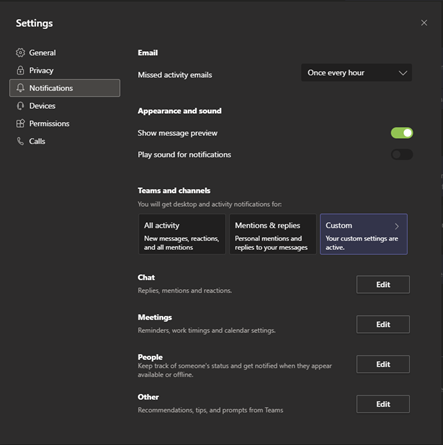 Appear offline in Teams
You can now set your status in Teams to Appear offline, you'll still receive notifications if anyone messages you, but you'll be able to work in Teams while appearing invisible to others. Like magic!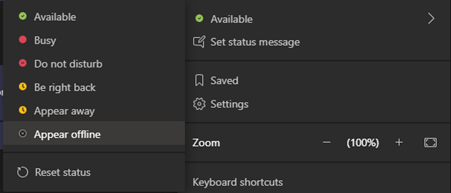 Notification settings got a makeover
Figuring out which Teams notifications you need to see right away can sometimes be a challenge, especially if you're part of several Teams channels.
Fortunately, Microsoft unveiled a new, simplified organization of your notification settings. To access, go to your profile picture, select Settings > Notifications and you're there.
Become a pro at notifications and learn more about the changes at Manage notification in Teams.
New industry-based team templates
Use team templates created specifically for your industry to help you create teams optimized for the way you work. There are also some new templates for project management, employee onboarding, and more.
Learn how to use templates at Create a team from a template.
Transfer meetings between devices
Seamlessly switch between devices when in a Teams meeting. If you join a meeting from your phone while making your morning cup of caffeine, you can transfer to your computer when you get to your desk, and no one will be the wiser.
Freehand by InVision brings whiteboarding to the new meeting experience
You can now use the Freehand by Invision app to collaborate in meetings in the new Teams meeting experience. Have fun sketching new ideas and brainstorming, right from the comfort and safety of a Teams meeting.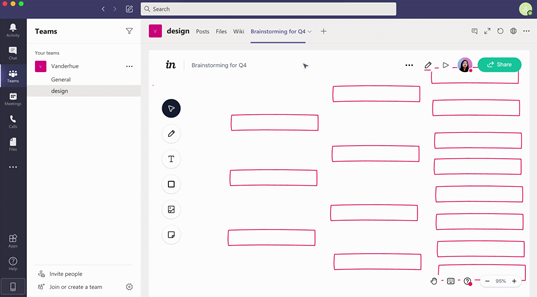 Microsoft has also released changes that may not be as readily apparent in your everyday use of the application, but they certainly make your experience simpler and bolster collaboration.
Meeting and meeting chat size increased to 300
Get even more people participating in your large meetings with the increased capacity for Teams meetings and meeting chats. Now, up to 300 attendees can join the meeting and send messages in the meeting chat.
Search within a chat or channel
Want to search within a single channel or chat for something? Go to the chat or channel, press Ctrl+F (or Cmd+F for Mac), then type what you want to search for. You'll get results from just that channel or chat. Works great for one-on-one and group chats!

Take a peek at your meetings
View meeting details from your calendar without opening the meeting. All you need to do is hover your cursor over the event in your calendar and a brief summary of details will pop up for you to read. Or, you can click to see information about the meeting location, corresponding channel, and creator.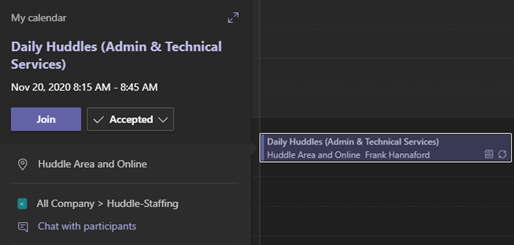 Speaker name added to Live captions
Live captions are now able to attribute the name of the speaker when generating captions during a meeting. The live captions feature is currently available in US English only.
New keyboard shortcuts
For improved accessibility in Teams, there are two new shortcuts. To start a new conversation, type Alt+Shift+C on PC and Opt+Shift+C on Mac. To reply to a thread, type Alt+Shift+R on PC and Opt+Shift+R on Mac.
New attendee audio option for meetings
Meeting organizers can now disable attendee mics to prevent them from unmuting during a meeting. In Meeting options, go to Allow attendees to unmute and switch the toggle to Yes.
Microsoft continues to add enhancements to the Teams application all the time. Have you taken advantage of the latest updates?
New features and functions, along with help to use these items can be found online at: https://support.microsoft.com/en-us/office/what-s-new-in-microsoft-teams.
If you would like to know if Microsoft Teams is the right collaboration solution for your business, or if you have questions on tapping into these new features, please contact the CoreTech team today!