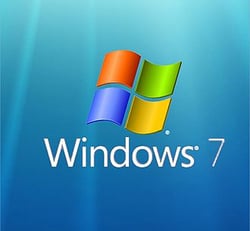 A constant drive to create new features, combined with limited resources, leaves software with an expiration date. Since the goal of most tech companies is to evolve and innovate, they can only lend so much time, money and energy on their old programs. So, software is given what's called an end of life date. On that day, the developer will no longer fix any issues found in the software. Not even Microsoft has the resources to keep software supported forever. So, it's coming time to say goodbye to Windows 7. Windows 7 will no longer receive patches for new bugs or holes discovered as of January 14, 2020.
What does this mean?
After January 14, 2020 Windows 7 will be open to vulnerabilities.
Can I continue to use Windows 7?
It will continue to work, but it's an unnecessary security risk. Hackers will continue to find vulnerabilities in the software but developers will no longer create patches to fix these issues.
What steps should I take?
1. Update. If your computer is capable of running a newer version of Windows, you will simply need to update to a newer version of Windows.
2. Upgrade. If your computer is unable to support a newer version of Windows, you will need to upgrade your device. This may be a greater cost, but it's not as much as it would be to combat a security breach caused by an outdated operating system.
Also...
If you are currently running anything older than Windows 7 (Vista or XP) support has already run out for your system and it's imperative to upgrade ASAP.
Let us help!
Do you need:
to know if your computer can support Windows 10?
to apply updates and patches to your system?
to purchase a newer system?
to know which computer is best for your line of work?
to set up a new computer?
Fill out the form on this page and we will assist you in getting your systems up-to-date!