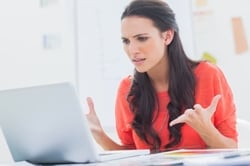 A ridiculous, illogical, absurd story...
I would like to tell you the story about an organizer, her name was Olivia. Olivia hated the fact that all of her important papers: birth certificates, her children's immunization records, passports, and automobile titles were not stored in one place. Olivia then gathered all of these important documents together and placed them all in a red file folder labeled "Important Documents." Now, Olivia needed to determine the best place to store the red file folder. "Ah ha!" she thought. "I will store the folder in the one place I see every day, the kitchen trash can." A week later, Olivia needed the red file folder labeled "Important Documents" to obtain what she needed to enroll her children in school. Imagine Olivia's shock and panic when she saw that the kitchen trash can was EMPTY. "Where did the red folder go?" Olivia's husband had put the trash out for trash pickup the previous day. Olivia was furious with her husband, "Didn't you see I had labeled the red file folder in the trash can 'Important Documents' how could you throw that away?"
As absurd as this story sounds many of us are doing the same illogical activity daily when we store emails that we wish to retain in our email deleted items folder. Deleted items are our emails trash can, it is meant for messages that we no longer want and wish to be "taken out with the trash." Due to security and storage optimization reasons cloud based hosting services like Office 365 and newer releases of On-Premise email servers are purging deleted emails after 14 days by default. What this means is that these services are now taking your email trash out for you—and keeping things clean.
If you are keeping email messages or folders that you wish to retain in your deleted folder, it is imperative that these emails and folders are moved out of your deleted item folder today! For help or suggestions on how to correctly setup your email folders contact us for assistance. Remember, you don't want to be left in a state of shock and panic like Olivia when you find your important emails gone.