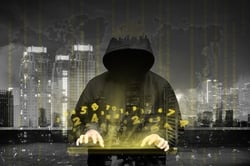 Yes, it's a wonderful time of year! The holiday spirit abounds—time with family, friends and special events. And yet, for businesses it's also a time to watch out for criminals looking to take advantage of vulnerabilities at the holidays.

Some security basics to implement now:
1. Warn employees to watch out for phishing scams, fake-outs, phony websites, and malicious ads.
There are all sorts of phishing emails this time of year. Seemingly coming from UPS, FedEx, USPS, or other legitimate companies, the email links lead you to places with malware or a phony website trying to collect personal or financial information. Take a look at our past blog post which trains you on how to identify phishing emails:
The anatomy of a phishing email.

Fake product giveaways and deals too good to be true are another way cyber crooks trick you into putting your personal or financial information into an entry form. If you are not familiar with the company or website, don't enter your information.

Malicious ads are tricky as they may even be placed on a legitimate web site that you frequent. Hackers buy ad space, or hack online ad systems to place a fake ad. Pay close attention to the domain name and URL address.

2. Use strong passwords and two-factor authentication
An effective method of protecting your personal and client information, and your business computers is by using strong passwords. It's unfortunate that many business staff don't know or don't want to follow these rules for strong passwords. Take a look at our blog post article for a refresher:
Passwords are like underwear.
Two-factor authentication (also known as 2FA) is an additional security step that is gaining in popularity as it contributes to more secure systems at the network and desktop level. Learn more about 2FA through our blog post:
Ward off intrusions with two-factor authentication.

3. Use secure wireless connections

Airports, coffee shops, free WiFi hotspots, and other public access wireless sites are all great for pulling up a map or checking the hours of your favorite store. All public WiFi is accessible to others and easily hacked, therefore you do not want to be using these wireless connections for any banking, shopping or purchasing transactions.

4. Data encryption

Is your business currently encrypting high value or sensitive data which you are storing or transacting? If not, you need to be. There are many avenues and devices which may hold client data. Evaluate each of them and determine the risk and need for encryption. If a laptop or mobile device is stolen, encryption will prevent a thief from booting it up. Email encryption will keep the email content and attachments from being viewed.

5. Application best practices
Are your applications current with the latest updates? This would include your antivirus software, operating system, business applications, and all other software that may have security patches. No? Well, be certain to contact your Omaha IT support team at CoreTech. Our
CoreCare managed IT services
will provide automatic updates, as well as comprehensive security planning and implementation.

Only allow approved software applications to be used on your network and business devices. Also, be certain to remove unsupported, unapproved, unused and end-of-life applications. Vulnerable applications put you at greater risk and give hackers ease in gaining access to your systems.

Last, but not least--add us to your calendar for training in 2017:

6. Security awareness training for your staff

Every business user needs the security basics under their belt in order to protect themselves and the business they work for from cybercriminals and hackers. Knowing how these people operate and how to protect your business is key.
NEW in 2017! CoreTech is offering an in-house training presentation and lunch & learn onsite for companies that would have eight or more attendees.
Learn more and contact us.

We hope this information gets you started and headed in the right direction. There are numerous other items your business may implement to protect data and systems. Please contact us at 402.398.9580 and we'll set up a consultation to address your specific business needs and goals.

From the CoreTech family, to your business family, have a wonderful holiday season.
Resources: