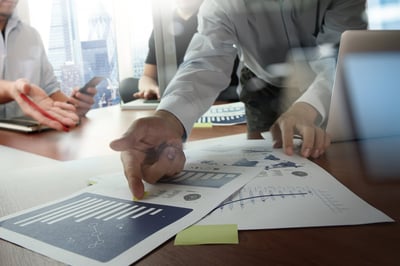 IT managers have a lot to focus on keeping their business technology running smoothly. They must respond quickly to help desk issues, monitor and update all technology systems, stay current with new technology solutions that can increase productivity and efficiency, and keep their skills sharp when it comes to cyber security. If the IT manager has staff, they also need to hire, train, and manage the team. All of that is a lot of responsibility!
Paramount to all these responsibilities is keeping the systems secure. If your systems go down, your business suffers. Some estimates put the cost of downtime at $8,600 per hour for small businesses. Cyberattacks affected 42% of companies in 2020. Cybercriminals continue to expand their skills and tactics to become increasingly more effective. A security breach can paralyze the company.
How can you best support your IT manager so they can keep your business running securely and smoothly? Providing them with an outsourced managed service provider (MSP) could be the best solution. An MSP will add resources while freeing up your IT manager's time, and services are customized for a budget-friendly solution.
1. It frees up your time
Suppose your IT manager is bogged down with help desk requests or time-consuming updates. In that case, they cannot allocate time toward finding better solutions and technologies to enhance systems and procedures. Your outsourced IT provider will take over time-consuming help desk tasks. They also partner with your in-house IT manager to learn your current IT processes and procedures, so they are able to assist in supporting them and also implementing new ones.
2. Allows your IT manager to focus
You hired an IT manager with the knowledge and skills to run all aspects of your IT. They are committed to helping your company grow, and they have strategic skills. Don't let your IT manager experience burnout if day-to-day issues drain their energy. When you supplement your IT manager with an MSP, they become an IT support partner.
An MSP will work closely with your team to meet your goals, and your IT manager has everything they need to focus on more significant projects. Most importantly, your MSP becomes a source of knowledge and inspiration to your IT manager. A collaborative relationship will give them ideas and solutions they haven't considered before, which results in a stronger team creating better results.
3. Saves money
A proactive environment gives your company the opportunity to budget upgrades for new equipment or projects. In contrast, the break-fix mode leads to unplanned expenses and unexpected purchases. Your IT support partner will help you budget for security upgrades and track renewals of your current software subscriptions. By working with your team and understanding your needs and goals, your MSP becomes a strategic partner to your company's growth.
4. Increases your security
Keeping your network and systems secure from cyber criminals involves testing for weaknesses, ongoing training for your IT team, and training for all staff that uses your network. When you add an outsourced IT provider, you add a layer of security to your company. You will have a team of professionals with knowledge of best-of-class solutions, tools, and resources.
Your MSP will examine every aspect of your technology to ensure all systems are secure and working at maximum efficiency. You can be confident that your security stack is working at optimum levels.
5. Creates a proactive environment
Your IT manager and your MSP will create a proactive environment where your company is secure and poised to move forward, unlike a company stuck in break-fix mode. An outsourced IT security provider has the tools to review the status of hardware and build a robust network.
They can prevent and help you with testing backups and not missing any security updates. Your MSP will scan for security threats and alert you before the breach progresses and possibly before a breach occurs.
6. Provides real-time help, fast
An outsourced IT security provider will help you create a security response plan. If a security breach occurs they will quickly jump into action. They will search your systems to locate any compromised data and work on recovering your systems immediately. They know that downtime adds up by the minute and they work diligently to get you up and running as soon as possible.
7. Reduce downtime
Downtime can occur for multiple reasons, such as software failures, hardware malfunctions, and human error. Software failures can be prevented with regular updates. Hardware malfunctions can be prevented by monitoring use, age, capacity, performance, and other issues.
Human error is remedied with staff training, and all of this is implemented by your IT support partner. Preventive maintenance is the first step to reducing downtime. Another step comes from having a team of professionals working quickly and efficiently to resolve any issues.
8. Enjoy vacation
Your MSP has a team of professionals working for your business 24/7/365. Rest assured knowing your IT manager can enjoy a much-needed vacation, and there will not be an interruption of services. Your outsourced IT security provider has all the tools and resources they need to assist staff and keep projects moving forward.
9. You gain a strategic partner
Enlisting the services of an outsourced IT provider will supply you with a trusted partner who is engaged in helping your team succeed. They will provide you with customized solutions tailored to your budget. If you are feeling overwhelmed with a seemingly never-ending list of help desk requests and IT projects, don't sweat it. Let a professional MSP help.
At CoreTech, our primary goal is to provide our small and midsized businesses with the resources they need. Our free guidebook is available to you as a resource to learn more about the benefits of supporting your in-house IT staff with an outsourced provider.
Additional Resources: