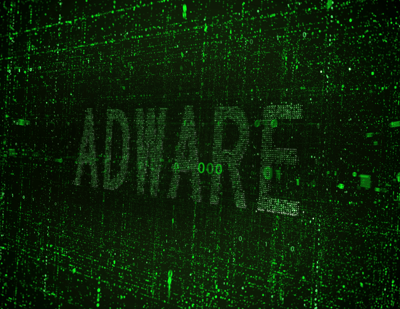 Did you know that the average person is estimated to come across 6,000 to 10,000 ads on a daily basis? That includes, billboard, merchandise, streaming music, video, or on social media ads. The growing use of digital and online marketing only increases click throughs. And while this could provide opportunities for you to expand your network across the globe, it also could expose your employees to malware and hackers.
Known as Adware, it's an advertisement-supported software that generates revenue for its developers by automatically generating adverts on your screen. It has the potential to be highly manipulative, creating an open door for malicious programs. Hackers can enter into your systems by cloaking the downloadable ad to look legitimate, attaching themselves when the victim downloads the application to their software. Usually, it's easy to spot the intention behind specific ads, but with the uptick of digital ads, hackers have a higher chance of camouflaging themselves in the chaos.
So, we wanted to point out the different kinds of malware, show the symptoms your computer may be experiencing when adware affects it, and give you protection guidelines to prevent malicious adware in the future. Because your employees are seeing so many ads in a day, there's a chance they could find "relevant" content to download, unfortunately releasing malicious malware into your systems. In reading this article, we hope your employees will remain cautious and discerning when downloading online content.
Types of adware
It is worth knowing that there are harmful and harmless adware programs on the Internet, with some completely legal, and others not.
Legal Adware allows you to consent to ads and software promos to get a free product, usually created by reputable developers. Be aware not all downloads are consensual, which can blur legal boundaries.
Potentially Unwanted Applications (PUAs) [aka Potentially Unwanted Programs (PUPs)] includes programs you might not have chosen to install into your device, and can contain both legal and malicious programs.
Legal Deceptive Adware PUA may make it difficult to opt-out of installing harmless third-party software. It is legal if the creator has not knowingly included malware ads, but the adware program might deliver disguised malware.
Legal Abusive Adware PUA is designed to bombard you with ads and can be packaged in adware or packaged software, often containing explicit content or fitness pills.
Illegal Malicious Adware PUA profits from malicious third parties distributing viruses and spyware. May be intentionally masked with adware, fake websites, or in accompanying software.


Any type of adware can instantly be tainted depending on the intent of the developer. Some might be creating an advertisement simply to let you know about their products and services, whereas others might be trying to using it as access to your data. Note: not all advertisements have been created for your benefit and might have an abusive or malicious virus hiding in the corner.
Digital symptoms of malicious adware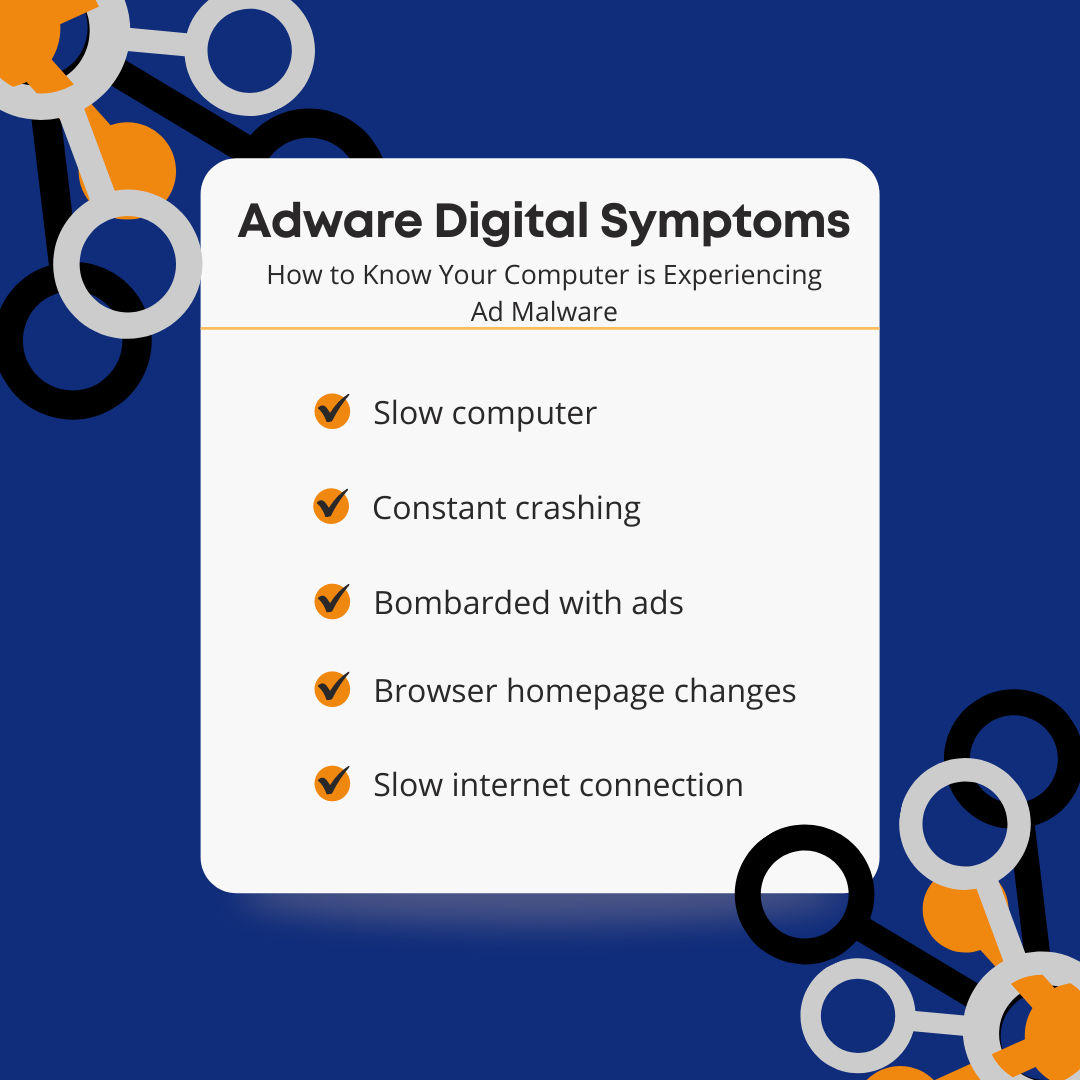 Considering the chance that you might have downloaded malicious content, there are symptoms your computer, or other devices, might be relaying to let you know their systems have become infected.
Slow computer
If you're noticing your computer is taking longer than necessary to load documents or launch programs, you might be experiencing an infection. Adware tends to take up large amounts of memory storage, slowing down your devices processor and decreasing your computer's performance.
Constant crashing
You might be trying to launch programs and the system continues to crash, despite restarting your computer or closing out of the program. This can be another red flag signaling adware tampering. Similar to a slow computer, the virus or downloaded content might be overriding the computer's systems so powerfully, it can't keep up with the work you are trying to complete.
Bombarded with ads
Be aware it's normal to see a few pop-up ads while surfing the web, especially if you've purchased or searched for that product before. But if you're seeing ads that are difficult to close, or redirected to full page ads, you might have an adware virus on your computer, which could be attracting unwanted ads. Another sign is when you're seeing ads that have nothing to do with what you're currently searching for, or what you've researched in the past.
Browser homepage changes
When you open up browsers such as Google Chrome or Firefox, malicious adware might have made some changes to your homepage by directing you to a new or different page. This could potentially install more adware onto your computer, as well as open the door for other forms of malware. Use this sign in combination with other symptoms, as the redirection might have just been a program update.
Your internet connection seems slow
At the same time as making changes to your systems and overriding your computer software, adware is also slowing down your internet connection. This is because the program is downloading massive amounts of ads from the internet you didn't consent to copy.
How to protect your devices from malware:
Now that we've discussed types and symptoms, we wanted to go further in-depth as to how you can protect your devices against adware.
First, learn how to spot fake pop-up ads with potentially malicious intent. Most might contain spelling mistakes and unprofessional images. Others might pop up when your browser is on full screen mode, keeping you from closing out or minimizing the browser. A fear tactic can be used when they ask to verify the phone number, to make sure it is yours, or they will demand you to call the company in question. A great way to validate the ad is by comparing to legitimate notifications you receive during work, or when you're online. If they don't match up, chances are it's a scam.
Second, keep your software and OS up to date. Hackers may try to exploit software vulnerabilities to introduce adware across your screens. By applying updates, you're locking doorways that might give malicious third parties a way in. We recommend restarting all of your devices daily, if not weekly, as well as checking to update your OS and software.
Third, pay close attention and don't be too curious. Scammers will use mysterious files, unnamed USB drives, or cryptic emails to draw people in to download the hidden content. There are also fake websites, warnings and forged emails that can deliver adware to your device. You never know what might be hidden inside the attached email or warning. If you're not certain on all the content you're receiving, it's best not to put it on your computer or other devices. More so, if you're not familiar with the source of the content, don't download the attachment.
Fourth, if you no longer want to see these kinds of ads, you can go into your settings on all of your devices and block pop-ups. It might be different for your phone versus computer, but it will stop adware from coming across your screens. You can even change your default ads permissions for internet browsers, such as Google Chrome.
What can we do?
Did you know that 62% of all cyber attacks are carried out on SMBs? You never know what you, or your employees, are exposed to. Hackers are persistent in trying to gain access through email, fake websites, or through malicious adware. Reduce threats to your business by training your employees and preparing them for any hacking attempts by participating in our Cyber Security Training. Also, protect your business network, devices and devices by implementing CoreTech's layered security approach. Contact our IT experts today!