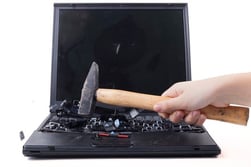 The risks of not properly destroying electronic media, such as computer hard drives, video and audio tapes, etc. can include identity theft, possible HIPAA violations, loss of business reputation and client trust, and more. Without destruction of these items that are filled with personal and company data, information could be sent to unintended recipients. Individuals, as well as businesses, have confidential information which they don't want ending up in the wrong hands. Destroying electronic media in the correct manner keeps all data secure so you don't have to worry about the negative consequences.
Your Media is at Risk – All of it!
Many people believe computer hard drives are the only electronic media that need to be destroyed. This is not the case. While it is important to properly destroy these devices, there are other items that you will want to take care of as well. Electronic media is defined as any electronically generated storage device that is used to record information. Flash drives, old floppy disks, magnetic tapes, CDs, DVDs, video and audio tapes, and hard disks are media some forget to take care of destroying properly. Electronic media needs to be destroyed not only because it contains your personal information, but it may have client or vendor information as well. If you, your clients', or vendors' info got out, credibility and business could be lost rapidly.
Now What?

So what are the best ways to destroy your electronic media? Many businesses hire a professional records management service to properly destroy and dispose of devices. The most popular ways to dispose of media today are shredding, pulverizing, and incinerating.
If this information has been useful to you, please let us know in the comments below.