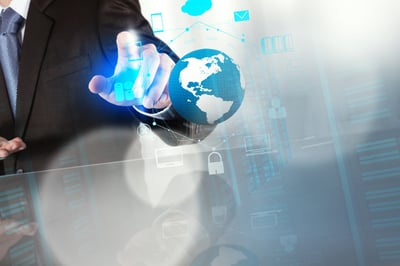 Are you putting much thought into your SMB's data storage security? No? Be certain to read on and come to a better understanding of how to protect your sensitive data and valuable business information.
In 2021 there were an estimated 1,862 instances of data compromises, a 70% increase from 2020, which had 1,108 breaches.
With such a significant spike, you want to make sure your business IT infrastructure is secure. Data storage security prevents unauthorized personnel from gaining access to valuable data you've collected over time.
We're covering everything you need to know about data storage security, so you can be confident your data stays exactly where you want it.
What is data storage security?
Data storage security combines processes, policies, and tools to protect an organization's assets. This term includes data sitting in a storage device inside a data center or overseeing when data is in transit, such as files downloaded or uploaded.
Proper data security requires real-time monitoring from an expert who can quickly spot and react to any suspicious events where your data might fall victim to fraudulent activity. Simply leaving data in a secure location won't guarantee its safety, though it might decrease the chances of someone successfully breaking in and either stealing the data or compromising it.
Why implement a data storage security policy?
According to KnowBe4, hackers encrypt the data until your company pays the ransom. The price to get your data back could close your business or make it difficult for you to get back onto your feet.
Furthermore, hackers can use ransomware attacks to compromise data in your archives without you realizing it, especially if you don't have an outsourced MSP monitoring your network. It could be months before you find out, and the hacker might have all the information they need to force you to pay for their silence.
How do I protect my stored data?
Broken down, data security has several elements of how procedures, policies, and tools are implemented for an organization. First, you need to identify what needs protecting. The list below, according to Verizon's Data Breach Investigation Report, is a list of data categories that are most likely to be stolen:
Credentials
Personal
Medical
Bank
Internal
Payment
Second, decide how you want to protect your data with these four methods from Gartner:
Encryption – Non-authorized parties trying to read data will see unreadable gibberish.
Masking – You hide high-value data by replacing the information with random characters or low-value data.
Data Erasure – As the name suggests, it means deleting data that is no longer in use or active.
Data Resilience – Back up your data and place it in a location, or several locations, outside of where it is currently being used.


Third, double-check that your stored data is secured using the CIA method: Confidentiality, Integrity, and Availability.
Confidentiality – Data is protected from unauthorized access
Integrity – Data is correct, reliable, and safe from cyber criminals
Availability – Easily accessed by authorized users.


These steps are essential to building a foundation and keeping your data safe. You'll want to work with your IT services provider to customize security measures to your network and your business needs.
How do I know that my business's data is secure?
There are multiple systems to implement to ensure total protection of your data. The three types of control include:
Administrative – These are the organizational guidelines, procedures, and policies to meet security goals.
Physical – This is something that is built to ensure data security (i.e., locks, surveillance systems, key cards)
Technical – Software designed to protect your data from security risks. They come with automated measures that will alert, lockdown, and protect your data as a threat enters.


Be sure to identify how sensitive certain bits of data are. Doing so will allow you to take the appropriate steps to put policies and restrictions on the correct pieces of data. Once you have put together security procedures for stored data, consistently test them to find weaknesses or determine if adjustments are needed.
Keep your data secret; keep it safe.
There's no such thing as perfect security, but considering how valuable and irreplaceable your data is to your company, no one except authorized personnel must have access to it. At CoreTech, we provide security expertise by offering solutions to how your business can best protect your data without breaking the bank. Contact us to learn how you can protect your data today.
Additional Resources: