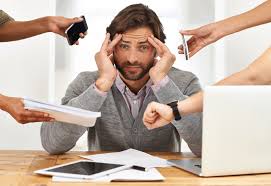 It is impossible to avoid stress in the fast paced society we live in today. Trying to organize work, family, friends, and activities within 12 hours sounds impractical; yet, people find themselves working to balance a million different tasks in a short period of time. The stress this causes can have negative effects not only on a person's relationships and quality of work, but overall health as well. So, what is the key to winning the battle against stress? Creating a plan to minimize it through actions you take outside of work.
Identifying Stress
In order to begin conquering your stress you must understand where the stress is coming from. Generally, people experience stress if they believe they don't have enough time, resources, or knowledge to handle and complete what they need to accomplish. It can be difficult to exactly pin point where the stress is coming from; however, keeping track of when and why you are feeling stressed can allow for better management of it.
Steps to Conquering Stress
1. Manage your time
At work it feels as though there are not enough minutes in a day to accomplish all of the tasks you have planned. To combat this, create a To-Do list in ranked order from most to least important to better manage your time. Preparing for the week in front of you provides a visualization of what to expect from your day-to-day and have realistic expectations of what can be accomplished. By focusing on items with higher priority you will feel less stressed.
2. Exercise
For some of you, the word 'exercise' can have a negative connotation attached to it; however, in this case it does not mean hard and long workouts but rather refers to 10 minutes of moving your body. Setting aside just a few minutes to walk around or even stretch can help get rid of nervous energy that is causing you stress. When your body is moving for a constant 10 minutes it releases GABA(a neurotransmitter that helps reduce stress) so if you don't have time to go to the gym and work out your frustrations, getting your body moving for a short period of time will do the trick.
3. Disconnect
Making yourself available to others 24/7 can prevent you from having the time you need to reboot and therefore think with a clear mind. When our phones are constantly buzzing with new emails, text messages, and social media it's hard to find time to focus ourselves. By disconnecting from all of these distractions and constant reminders of 'things to-do' we are able to enjoy the present and stop worrying about things that have yet to happen.
4. Focus on yourself
Participating in something you're passionate or interested in on your days off can help escape the stresses found within your days at work. This allows you to draw your attention on an activity you enjoy as well as open your mind to new ways of thinking. Even something like buying a ticket to a concert you're interested in, or reservations to a new restaurant can greatly improve your mood with knowing you have something to look forward to.
5. Create a support network
As time flies by throughout the week, it is important to make time for friends and family after work and on the weekends. Having a team of people who you can turn to when things get hectic or you need to let it all out can help you manage stressful situations in a positive way. Talking through a problem and having a network you can rely on can make you less stressed by just knowing they're there to help you if you need it.
6. Make sleep a priority
Sleep is a necessary human function that allows our brains to recharge and our bodies to rest. When stress gets in the way of our sleep our bodies and minds reap the consequences, so it is important to ensure we are getting the sleep we need. It is recommended by the APA (American Psychological Association) that adults get anywhere from 7 to 9 hours per night. They advise that you wake up and fall asleep at the same time to prevent feeling groggy and sleep deprived. And although it is tempting to sleep in on the weekends, it can actually cause more harm than good in making you feel stressed out.
Although these strategies may seem simple, implementing them into your daily life can be difficult when your mind is boggled with stress. Next time you find yourself stressed out, take a step back and find a plan that works for you to conquer it.
Sources
https://www.adaa.org/tips-manage-anxiety-and-stress
http://www.apa.org/news/press/releases/stress/2013/sleep.aspx
https://bebrainfit.com/gaba-supplements-stress-anxiety/
https://www.forbes.com/sites/travisbradberry/2016/09/29/8-powerful-ways-to-conquer-stress/#1272b41b52fa