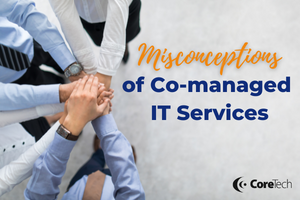 At the end of the day, as a business leader, executive, or IT professional, you want your technology to contribute to the productivity and profitability of your company. You want to succeed at this, so your business goals are met, and you can look back and note the success and your contribution to it. So, what if I were to challenge you to think differently about how you structure your IT talent and skills?
Problem
Accessing, attracting and developing talent is, and will continue to be, a challenge for IT departments and midsized companies into the future. If you are a growing company, you feel the pressure of this challenge, and need to come up with solutions, quickly, to address it.
Solution
A solution you will want to look at is co-managed IT services. These services refer to a partnership between in-house IT staff and an outsourced managed IT services provider. The collaboration serves to meet the needs of your company by tapping internal and external resources.
Your company assesses the internal resources and responsibilities and outsources other tasks and responsibilities that complement the internal IT staff, as well as help the company reach their business goals.
For example, it is difficult to find or develop all that your company may need to secure your IT systems. A managed IT services provider with a focus on security will be able to provide the services and tools you need to keep your company safe. In this way, you don't have to hire an expensive resource to do this on your own.
At this point you are either on board, in which case please reach out to us, or you are still questioning the benefit of co-managed IT services. Maybe it is because you've heard it's expensive, you don't want to cut staff, or you feel an outsourced IT service provider won't care about your business goals. Whether it is these reasons or others, read on as I will be addressing many of the misconceptions of co-managed IT services here:
1. Co-managed IT services are expensive.
A relative term based on a company's budget and how they will benefit from the service, expensive, is not a term that is generally associated with co-managed IT services. Outsourced IT services help to reduce your overhead, provide fixed monthly fees, and provide proactive services which put your company in a position to meet your business goals.
We dive deeper in this blog article: How Co-managed IT Services Can Lower Your Company IT Costs
2. Outsourced IT providers aren't focused on our business success.
If you interview co-managed IT services providers, armed with the best questions, you will find an IT provider that is focused on your business success. Remember, weed out the less mature companies focused only on the task at hand, and look for an operationally mature company which has a vision, likes to strategize solutions, and develops IT budgets and technology roadmaps for their clients. You might need these services, or you may not, however hiring a company which provides proactive deliverables wants to understand your business and see you succeed with their help. They are looking for successful partner outcomes to develop additional co-managed relationships with other companies.
3. My company IT staff will be concerned for their jobs.
If you are a growing midsize company, the benefit of co-managed IT services is to supplement in-house staff responsibilities to either lighten the load, accomplish side projects, or provide services which free up in-house staff for special projects and additional training.
The business benefits when in-house IT and outsourced IT teams work together. The IT provider is there to share responsibilities with in-house IT staff and help make their lives better. Responsibilities are defined and everyone moves forward. Productivity, proactivity and profitability of the business should be the focus.
4. We will lose control over our infrastructure.
With defined services and responsibilities, the best co-managed IT services provider will maintain transparency and keep you in the loop as to the status of ongoing work and project deliverables. Again, it is a team effort with a focus on goals and outcomes. The more clarity regarding services and responsibilities, the easier each team member will find it is to communicate and share information in a common applications and repositories.
Taking advantage of co-managed IT services gives your business a blend of skills and resources to manage growing operations, close gaps, and make way for strategic projects. All of this can be accomplished in amongst changing technology demands and a competitive market space.
If you would like to learn more about outsourcing IT services and co-managed IT services, please reach out to us today.