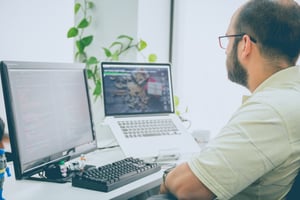 Although it may not be at the forefront of day-to-day business procedures, knowing how to respond in the event of natural disasters, security breaches or server failures remains a vital part of all business operations. Every organization must have a business continuity plan in place for backup and recovery in order to reduce downtime and customer interruptions.
In addition, this year's pandemic proved that business continuity plans also must address such issues as setting up employees for remote work and having infrastructure in place to accommodate those needs.
So how do you get started with a business continuity plan? Here are some frequently asked questions and common considerations.
What should be in my business continuity plan?
Your plan should start with the following components:
Recovery processes for specific disasters
Inventory of assets
List of key contacts
These categories will help you identify critical business systems and applications that keep your business running. Think of those items that are "must haves" for your business operations. A business continuity plan also pinpoints which assets should have priority for recovery, repair and/or replacement in the event of a catastrophic event. In addition, it contains the list of people you need to speak with right away to start the recovery process for your business, saving valuable time during a stressful situation.
In order for your employees to continue working and serving your customers, your business continuity plan also should outline how to implement remote working. Considerations for remote work include:
What equipment do employees need to work remotely?
Is special software required for remote access to our business systems?
Can employees securely access our business systems?
Will there be any downtime between when our systems go down and when employees can access our systems?
For more detailed information about getting your organization equipped for remote work, click here to download our FREE checklist.
Your business continuity plan also must include a managed backup plan. A managed backup is a solution from your IT service provider that routinely backs up your data and monitors it to ensure your systems are running continuously. In the event of a power outage, a server failure, a security breach or a natural disaster, this backup and recovery service helps you restore your system software and files to get your business up and running as quickly as possible.
How do I create a plan?
Start by making a list of critical components you need to keep your business running at all times. Think hardware, software, inventory and other items necessary to perform your day-to-day business. Then, add information about how you will respond in the event of a disaster. Talk with an MSP that can help evaluate your current systems and devices to determine what gaps should be filled and provide recommendations on the best approach to your business continuity plan, including backup cloud services to keep your data safe and secure.
What steps should I take to implement my plan?
As you implement your business continuity plan, it's important to test it to make sure the recovery processes you implement will work as planned. Test different disaster scenarios such as a power outage, a security breach or a server failure, and see how your plan plays out. This allows you to address shortcomings and overlooked items now so you don't have major problems when real disaster strikes. In addition, working with an MSP when testing your business continuity plan can provide experienced insights to help pinpoint any weaknesses and include any backup and recovery solutions you may not have considered.
How often should I update my plan?
Your business operations won't remain stagnant, nor will your IT systems and solutions. As such, you should periodically review your business continuity plan, including backup and recovery, to ensure that your plan continues to meet the needs of your business operations in the event of an interruption. This should be done at least once a year, but more often if you change or update your IT systems in between evaluations.
If you still have questions or want to start on your own business continuity plan, including backup and recovery options, CoreTech's knowledgeable team can help. We can develop strategies and implement backup cloud services to minimize disruptions to your day-to-day business operations, reduce downtime and enable you to continue to serve your customers.
Contact us today to find out more information or to discuss your business continuity needs.