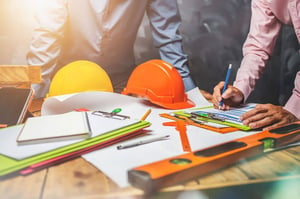 With IT components like digital bidding, collaboration tools, and estimation software, construction companies are evolving faster than ever before, and those changes impact construction business owners and managers significantly.
However, when you partner with a managed IT service provider, you can streamline your company's technology growth. They'll manage the systems and equipment for you, recommend the best solutions to meet your business goals, and, most importantly, allow you to work on your construction projects, not on your company's technology.
How can a managed IT support company help my construction business?
In this post, I'm going to detail how construction companies can benefit from managed IT services. Managed service providers help in a variety of ways, including:
Best-in-class IT solutions

Expert advice and resources

Cost savings

Simplified scalability

Vendor management

Peace of mind

A long-term partnership that focuses on your business and your goals
Best-in-class IT solutions
When it comes to deciding what IT solutions are best for your business, there's a lot to consider. You want the program to do everything you need it to do, but it needs to be intuitive enough for your employees to pick up on quickly.
You'll want a solution that has adequate support, but there are so many tools on the market that it can be hard to figure out what's best for you. A managed IT service provider assists in this situation by helping you vet software and hardware, helping you devise a customized tech stack that suits your construction company's needs.
Some of the IT solutions a service provider assists with include cyber security, automation, help desk & support, mobile device management, remote work, and integrations.
Experts in their industries – just like you
r business.
When companies, organizations or government entities seek out a construction company to develop a solid project, they come to you. You know the best, most cost-effective ways to construct their new office building or roadway, and IT service providers know technology.
They'll recommend the best solutions for your business and help keep it running smoothly.
Managed service providers are comprised of entire dedicated teams that want to keep your business online and functional. They regularly attend trainings, complete certifications and further their learning, staying on top of the latest tech trends to make sure that your construction company's IT stays ahead of the curve.
And what's more, these teams are happy to share their insight with you! Once the basic day-to-day IT services are in place, IT providers work with you to strategize the best way to meet your specific business goals and drivers.
Cost Savings
If you're a small construction company, trying to hire and keep an internal IT team is expensive. You have to pay salaries and benefits, not to mention pay for the necessary updates and upgrades for your technology.
It's a challenge for some larger companies, too, which is why outsourcing your IT to a managed IT service provider makes sense for medium-sized businesses as well. If you're worried about handing your IT responsibility over to an MSP, don't sweat IT! They can handle as much or as little as you would like them to help with. So, if your IT manager has tasks that they like doing regularly, such as big-picture planning, they can hand off some of the more day-to-day maintenance like updates and security to an IT service provider.
You'll save money because you won't have to worry about those additional expenses, so you can funnel those dollars into other areas of your organization!
Ease of expansion and scalability
Is your construction company planning to expand? A managed IT provider can help significantly. Using the power of the cloud, managed service providers can help improve mobility, scalability, and more. You won't have to worry about adding new employee devices or equipment, either, as managed IT providers can also assist your firm with configuring and deploying new technology for those staff members.
IT vendor management
We've heard it before. IT vendors pointing fingers at one another or even you, without actually solving your issue. That gets you nowhere, and before you know it, the day is over and your technology still isn't performing the way it should, which just means you have to start all over again the next day.
With a managed IT service partner, you no longer have to juggle IT vendors, because their team will do it for you.
It saves you time and energy and gets your problems resolved more quickly, allowing you to get back to doing what you do best.
Peace of mind
Your IT needs to stay online and operational when you're doing business. It's vital to the continued life of your business, after all. You have to be able to communicate with customers and your employees, and when your IT crashes, you need to get back up and running as quickly as possible.
Partnering with a managed IT company helps on both fronts. They will help get you online and keep you there, and in the event of an outage or other malfunction, they'll resolve it quickly. Peace of mind is one of the greatest things an experienced managed service provider can offer your construction company!
How about a l
ong-term partnership that focuses on
your
construction
business
?
Partnering with an IT service provider doesn't have to be difficult, and you can find a team that wants to see your business succeed in the long run. At CoreTech, we're happy to say that our clients find our managed IT process refreshing.
In fact, we don't just dive into the tech. We talk business first: specifically, your business.
When you schedule an appointment with our team, we take the time to learn about your business processes and goals. We want to know where you are and where you'd like to be, so we can bridge the gap using the right technology.
And we're in it for the long haul. We're passionate about building a lasting, collaborative partnership with your construction business. Are you ready to experience a refreshing managed IT experience? Contact CoreTech today.