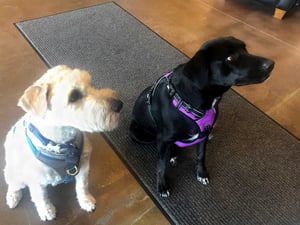 With roughly 68% of households owning a pet, it's becoming a trend to find dogs in the workplace. It's pretty easy to find employees that would enjoy bringing their dog to work, which is why many companies are now using bring-your-dog-to-work policies as part of recruiting. Even beyond recruiting pet-loving employees, there can be a few major benefits of allowing dogs in the workplace, including stress relief, improved productivity, and increasing the morale of your human employees. Pets can also be a point of common interest and open the opportunity for positive interactions between employees. At CoreTech, we enjoy the benefits of a bring-your-dog-to-work policy. But, as a business owner, you must also consider the reasons why you might not want to allow dogs in the work environment.
Although there is a lot of evidence pointing to the positive benefits of pets in the workplace, it's not going to be a good fit for every business. A few things to consider:
There are people that suffer from allergies or may fear dogs and would be uncomfortable working around dogs.

Dogs can be a distraction for some.

Finding time to take your dog out for a potty break is a must to avoid any messes

—

and even then, messes are a possibility.
Dogs are also very similar to people, in that they don't always like everyone

—

A scuffle between dogs can be distracting and employees need to know how to handle the situation when that occurs.


Dogs in the workplace can be rewarding in many ways but there needs to be some consideration given, to make sure it is the right thing for your organization. If the animal is not a service animal, you need to make sure all employees are okay with having animals in the office. It would be good to develop a company-wide policy to outline the do's and don'ts of bringing dogs to work at your business. Here are some examples of requirements you may want to consider in your pet policy:
Pet Workplace Requirements
The dog should be at least 6 months old and spayed/neutered.
Up-to-date on all vaccinations required by state law.
Free of any contagious infections or any parasites that may spread to other pets.
Clean and well-groomed.
House-trained.
Obedient, well-socialized and with no history of aggressive behavior.
Microchipped, to help locate and return them in case they would run away while visiting.
Covered under their owner's insurance policy such as homeowners or renter's insurance (the policy must cover dog bites.)


Pet Owner Responsibilities
Be 100% responsible for their pet's behavior and must take the pet home if they become too much of a distraction.
Keep their pet controlled throughout the day, or if needed, have a plan with a co-worker if the owner needs to step away.
Provide their own items for the pet, such as leashes, crates or gates to keep the pet securely in the employee's work area and toys to help keep the pet occupied.
Provide adequate bathroom breaks, access to water and food.
Clean up right away if the pet has any accidents.
Provide annual proof of vaccination and health for their visiting pets.


At CoreTech, we strive to create a positive work environment for our employees, so they are better able to provide excellent service for our clients. Check out some of our other blog posts to see other topics we're passionate about and how we can help your business with technology.