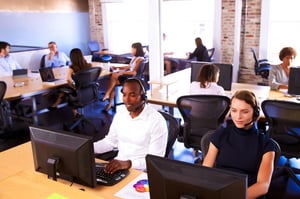 When Henry Ford invented the automobile, it changed the way the US Mail Service would deliver mail forever. It took a little more startup capital to implement but would pay off in the long run and allow mail to be delivered quicker and in greater quantities. That is how you can think of fiber vs. copper for your internet traffic. It allows you to "carry" more information at a much faster rate of speed.
Due to the popularity of cloud applications like Office 365, more and more data services are being pushed from on-premise servers to the cloud every day. Using more cloud data requires your cables to be able to handle the extra load and ensures that you will be able to handle unforeseen technological advances in the future.
Fiber optic cable is made up of glass or plastic strands, smaller than a human hair. They can hold as little as one, or up to hundreds in each cable. Information such as telephone calls, emails, music and movie files are carried by light waves traveling at speeds many times faster than anything you can achieve on copper cables.
Some advantages of using fiber over copper are:
Fiber carries more information over a longer distance and using less real estate than copper cable.
Fiber cable is not susceptible to electromagnetic interference, which means the data is more reliable and has better signal quality.
The weather has less of an impact on the cable itself, which keeps services running more reliably and helps keep maintenance costs down.
It keeps you "future-proof" to the advancements in technology which are requiring more and more bandwidth every day.
Fiber cable is almost impossible to hack into, unlike traditional copper.
To lose connectivity, you would have to actually "break" the connection, which will be noticed immediately by technicians monitoring the system or by end-users losing internet access.


Fiber makes the overall internet experience more enjoyable by mitigating stress. When you can click on a web page and have it load almost instantly, it makes work easier and more efficient. The utilization of fiber cables allows you to use the internet for more — like storing backups at offsite data centers or utilizing video conferencing instead of telephone calls. Quicker internet speeds allow your staff to do more, in less time — minimizing frustration and maximizing productivity.
A couple disadvantages of using fiber is that, in general, it incurs a higher cost from service providers. However, prices are declining as it becomes more widely available and used, also as the process of making fiber cable advances and simplifies. Fiber cable is more fragile than copper and is easier to damage, but suppliers have been aware of this for years and have come up with ways around this like encasing it in metal layers or installing metal pipes and running fiber cable inside.
Overall, fiber is the best way to go. The advantages far outweigh the disadvantages and you can be certain that you will be able to handle whatever changes the future will throw at you.
CoreTech is happy to assist with your move to fiber cable. Let's talk through your options based on your location, budget, and speed requirements, so you know exactly what you want before entering into an agreement with a service provider like COX or Great Plains Communications. We're here to help make sure it's a smooth transition.