Organize your notes with OneNote 2016!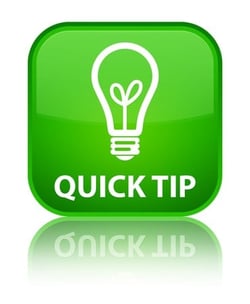 OneNote is a digital note taking application that allows users to take notes in a free form or more organized manner, depending on their style. Notes taken here can easily be located, reorganized, printed, and shared between users. Using OneNote, users are also able to simply add drawings, screen clippings, audio clips, and even handwritten notes using a stylist. Notes saved in OneNote can then be found on any device, making them more accessible and portable.
Today, we are going to discuss just a few basic tasks that can be accomplished using OneNote 2016.
Formatting your OneNote:

On OneNote, you are able to take notes without ever worrying about running out of space. You can type or hand write as far to the right and as far down as you would like. Similar to an Excel spreadsheet, the amount of room is endless.

To begin note taking, start by formatting your OneNote the way that works best for you.

1. Click on the "View" tab on the ribbon.
2. Select the "Rule Lines" drop down.
3. Here you can choose a grid line, classic note pad, or blank page.

4. Create different tabs to keep notes separate.

Typing or writing notes:

OneNote's unique free form note taking style makes it easy for users to format their notes however they'd like.

1. To begin note taking, click anywhere on the page and begin typing.
2. You can move your curser to anywhere else on the page and begin typing there at any time.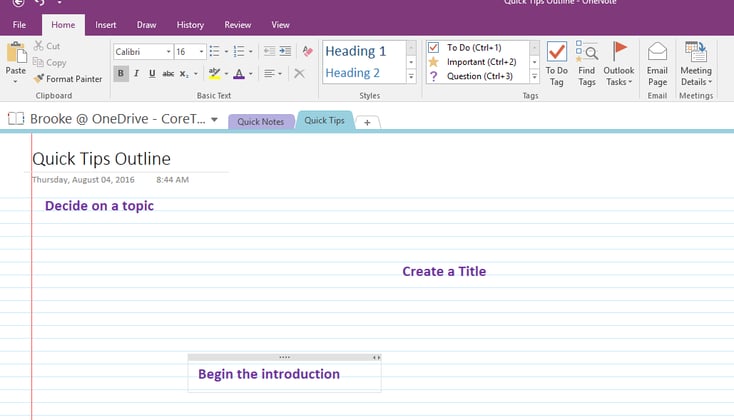 3. Click the page header at the top of the page to add a title to your notes. (ex: Quick Tips Outline)
4. By clicking on the draw tab, you are also able to draw with a mouse or stylist if you prefer to take notes by hand.
Inserting files, links, and pictures:

Inserting files, links, and pictures in OneNote uses steps that are virtually identical to those for Word 2016.

1. Select the "Insert" tab to find all 3 options.
2. To insert a file, select "File Attachment" and select the appropriate file.


3. To insert a picture, choose from the 3 options "Screen Clipping, Pictures, Online Pictures" to upload your desired image.


4. To insert a link, select "Link" from the ribbon and type the link's destination URL into the "Address filed" and then select "OK"