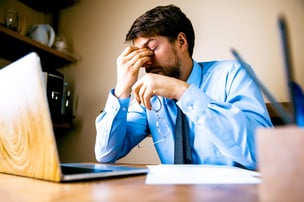 According to Ponemon Institute, 65% of IT and security personnel are considering changing jobs or careers. This is due to their ever-increasing workload, the requirement of being on call 24/7, overload from constant notifications and alerts, and the pressure of taking on continuously-growing security threats. It's easy to see how all these stressors are mounting to create an unmanageable work environment. If your internal IT staff are getting burnt out, they're not alone and it's time for businesses like yours to start working towards a resolution.
First Things First: Management and IT need to get on the same page.
Almost half of tech employees (49%) say that their IT security goals and the business's overall goals are not aligned. Without this alignment it's difficult for them to convince senior leadership that what they require to do their jobs is important. When you consider that 60% of SMBs fail after experiencing a cyber security event, the costs are far too great to keep ignoring. If you need a place to start, check out: Aligning Cyber Security with your Business Strategy.
Once management and IT goals are aligned, your tech staff need to be enabled to succeed.
How to Decrease Burnout Among IT Employees:
Resources: With a combination of cyber security research, consultation of peers for best-practices, budgeting, planning and implementing technology hardware and software, completing projects, day-to-day IT maintenance and issue resolution, responding to reported anomalies found via monitoring software, and more, what started out as a small operation, requiring only one IT person, now requires much more than one human can handle. Get them some back-up.

Partnering with a Managed Service Provider (MSP) like CoreTech, allows your IT personnel access to a team of IT admins and systems engineers who can help shoulder some of the workload. This provides the full support of a team, without your business having to pay to employ all these extra staff members. Let us take on the more time-consuming, monotonous tasks, so your internal IT employees can put their focus on the larger projects meant to advance your business.


Automation: The utilization of automation can be a lifesaver. Pre-approving and automating standard changes, status emails, and even some higher-complexity workflows. You can also combine automation and human intervention for things like new employee on-boarding. Automate the software installations and setup, and your IT staff is left needing only to perform the physical setup. Automation can save your techs a lot of time and frustration, but they need to be given access to the tools they need in order to perform these processes.


Prioritization: As we discussed earlier in this article, management and IT aren't always on the same page when it comes to defining specific business goals. Once your goals are aligned, it's important to also agree on the most important tasks and processes to complete in order to reach them. Agreeing to set priorities and being realistic about timelines will help to prevent misunderstandings and frustration on both sides.


Time Off: Being on-call 24/7/365 doesn't offer much for a healthy work-life balance. Enlisting the help of an MSP can help offload stress and allow your employees some time to stop thinking about work, get a good night of uninterrupted sleep, and maybe even take a day off without being concerned that if something goes wrong they're the only one that can fix the issue.
Why Add a Managed Services Provider to Your Team
Whether you rely on one internal IT Manager or a small team of techs, an MSP can be a great addition for your growing business. If you see your IT employees struggling with their workloads, it's time to provide relief before they get burned out. It only makes sense that as businesses grow, so do their technology and cyber security security needs. MSPs are able to bring the knowledge of many team members with different skill-sets to the table, for your internal IT team to utilize.
Your IT manager can decide if they require assistance with anything from planning and budgeting to employee help desk support — allowing them to focus on the bigger picture of advancing your business. If you're interested in seeing how we could be a helpful addition to your team, reach out today.