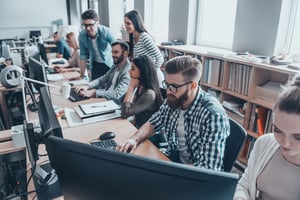 Are you a growing small or medium Omaha business?
As your business gains traction and expands, you may find yourself running out of physical space for new hires or new equipment.
Growing businesses often find that their current facility no longer provides the optimal infrastructure necessary to run their business productively. After all, buildings can only effectively support so many people and so much activity.
What factors should you consider when deciding to move your office? Take a look at the top 5 reasons why companies decide to move and the average costs associated with moving.
Then, don't forget to download our Complete Guide to Your Office Move for an in-depth timeline of what to do to prepare for moving day.
Over one million corporate moves occur every year in the US
The top reasons why businesses decide to move include:
Upgrading their facilities or equipment

Decreasing incurred costs or increase profits

Finding a larger qualified workforce to employ

Reaching new consumer markets

Improving the quality of life for employees



Will moving your office provide these additional benefits for your business?
Budgeting is also a substantial factor to consider
On average, you should expect to pay $750 - $4,500 to move a 1,500-sq. ft. office, $1,500 - $9,000 to move a 3,000-sq. ft. space, and $5,000 - $30,000 to move a 10,000-sq. ft. business.
Whether you end up paying on the higher or lower end of your spectrum depends on how much equipment, furniture, files, work spaces, etc. you have to move.
Additionally, you incur extra costs when movers have to carry items a long distance to and from the truck, if they have to finagle through elevators and staircases, or if furniture takes a long time to dismantle/rebuild.
Also remember to discuss the movers' policy on tipping. Always budget for more than you expect to pay, so that you're ready for any unforeseen expenses.
For more information, timelines, checklists, and extra tips on executing your own office move, be sure to check out our Complete Guide to Your Office Move.
Sources:
http://smallbusiness.costhelper.com/office-mover.html