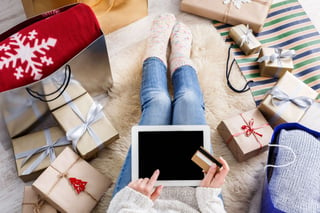 It's the most wonderful time of the year. Not only for the good-hearted souls searching for the perfect gifts for their loved ones, but also self-serving cyber criminals. They spend their holiday season trying to lure you in with bogus discounts and counterfeit websites. They want you to believe that you finally found the perfect gift at a price you can afford, when really, you just unknowingly gave away your credit card information to be auctioned off on the dark web.
As you embark on your holiday shopping journey, keep in mind this list of tips to guard you from accidentally giving a cyber criminal the gift of your identity:

Use secure websites. Secure websites use encryption methods to keep your credit card information safe. One way to tell if you are on a secure site is by looking up at the search bar. A secure website will display a padlock symbol to the left of the URL. The URL itself, should start with "https" instead of just "http." The s stands for secure.
Don't give away personal information. Unless you are buying a car (which I don't suggest you do at home from your smartphone) no company needs your social security number or birthday to place an order. But that information does give hackers easy access to the rest of your personal records.
Keep tabs on your banking statements. It is important to be certain your receipts and bank statements match up. The faster you are able to catch any discrepancies, the easier it will be for your bank to turn off your card and compensate you.
On the other hand, if your bank contacts you about fraudulent charges made on your credit card, they will not be asking for your full pin or banking password for authentication. If you have any doubts as to the validity of the call, hang up and call your bank directly.
Have antivirus installed. Whether you are using a computer, tablet or mobile device it is crucial that you have antivirus software installed. If you leave your devices unprotected you are easy prey for any number of virus or malware that exists to steal your information.
Use familiar websites. Clicking on a random ad on the side of a webpage could very easily direct you to a fraudulent website. Just entering their site is enough to give them access to your data. Always use secure websites for retailers you know you can trust.
Beware of counterfeit websites. Some malicious sites will lead you to believe they are a well-known company. For instance, they could buy a domain with the name of a respectable retail site but with a small change like ending in ".net" instead of ".com."
Create Strong passwords. Always use strong passwords and do not use the same passwords for everything. If a hacker finds out your password for one site, you do not want to make it easy for them to obtain access to every site you have an account with.
Is it safer to use an app? There is no conclusive answer on whether it is safer to make your purchases from a company's website or their app. It seems the safety of a company's app vs. website is more on a case by case basis. Recon conducted a study of 50 popular online services. Click here to check out some of the different sites they studied in this App vs. Web tool. For steps you can take to discern the validity of an app, explore the infographic below.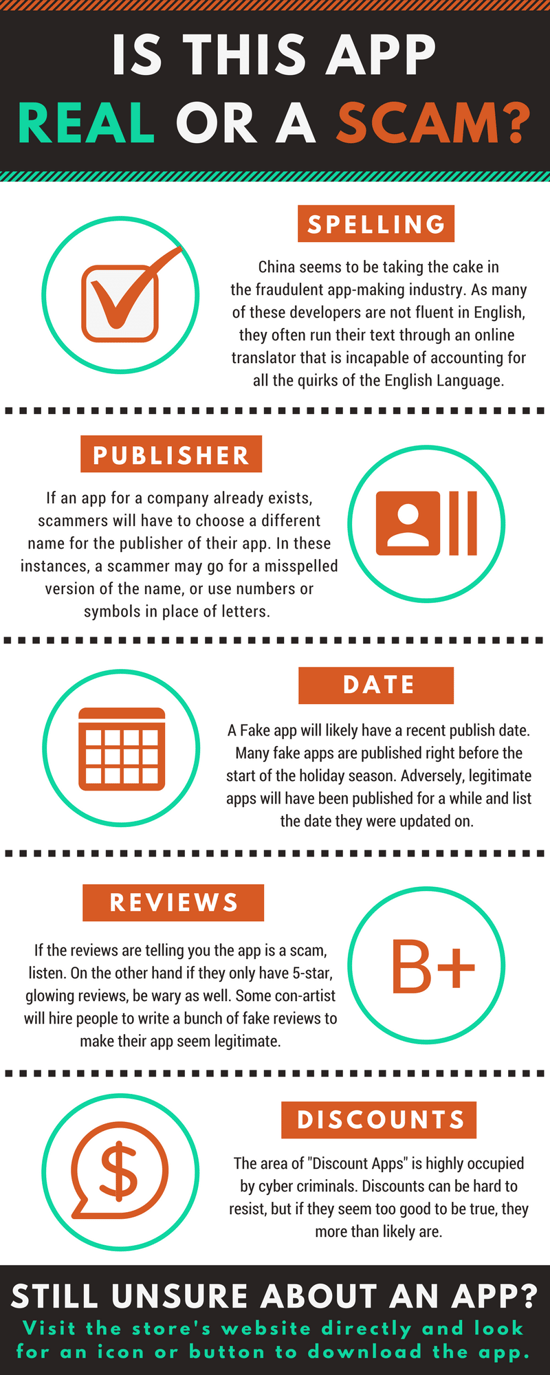 Reach out to us at info@coretech.us or by phone at 402-398-9580 with any questions about keeping your data safe this holiday season. We are here to help!
Sources:
https://www.cnet.com/how-to/how-to-spot-fake-ios-and-android-apps/
https://www.pcmag.com/article2/0,2817,2373130,00.asp
https://www.nytimes.com/2016/11/07/technology/more-iphone-fake-retail-apps-before-holidays.html
https://www.techrepublic.com/article/apps-vs-mobile-websites-which-option-offers-users-more-privacy/
Copyright: milkos / 123RF Stock Photo