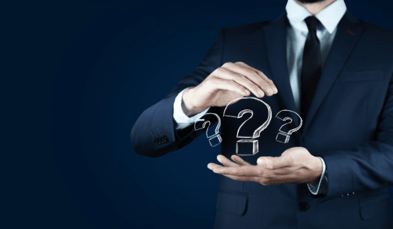 The world is reopening, and it has brought up several new technology challenges.
Businesses are making intentional decisions about:
Where and how they do their best work
How to keep their systems secure
How to keep them operational
How to keep employees happy


Here's what I anticipate as the seven greatest challenges for SMBs throughout the rest of 2021.
Adapting to remote and hybrid: post-pandemic work models
Before COVID-19 turned the world upside-down in 2020, only around 20 percent of the workforce was remote. Enter in coronavirus, and that percentage leapt to 71 percent.
Now that people are getting vaccinations and the pandemic no longer keeps us indoors, it's up to businesses to decide how their workforces are going to do work—and where. The intentionality of this decision is key; the pandemic didn't really give us a choice, requiring many companies to go remote to protect one another from COVID-19 exposure.
Now, however, businesses can, and must, choose the best ways for their employees to work.
Will they decide to stay fully remote? Go back to the office full time? Or will they choose the best of both work models and adopt a hybrid approach? Each has their pros and cons, and there are a variety of opinions circulating about the effectiveness of each model.
But selecting the right work model is only one thing. Equipping your workforce with the right tools to do their job, regardless of location, is where things can get tricky. You have to consider the people on your team and how to let them do their best work. Acknowledging the potential impact on your team and your culture is important here.
Why can't our staff use the remote setup we provided at the beginning of the pandemic?
It's highly unlikely that the setup you provided during the pandemic is suitable for prolonged use. The pandemic forced many SMBs to adopt remote work hastily, and those solutions inadvertently added a lot of exposure.
Many of those rapid adoptions were temporary, bridge solutions. They were never meant to be permanent components of your IT strategy. Now that the pandemic is coming to an end, it's time to examine your work model and your team closely.
Securing the future of work will always be a challenge for IT leaders
With any work model you choose, IT security considerations should be at the top of your list of priorities. Cyber crime has skyrocketed, especially due to the pandemic and remote work. Implementing a comprehensive IT security approach that engages all defenses is the best way to prevent a breach.
If you're considering a remote or hybrid approach, you can expect to see challenges in the areas of ransomware exposure and the use of personal versus company-managed devices.
Ransomware
From the Colonial Pipeline to Kaseya VSA, there's no shortage of ransomware attacks making headlines. To protect your SMB, you'll want to:
Implement backups. In the event of a ransomware attack, you want to be able to restore your data without paying the ransom. You'll want your backups isolated from the rest of your systems to be sure they, too, aren't encrypted.
Keep cyber security at the forefront, even at home. When we're working from a home office, cyber security isn't always top of mind. However, maintaining constant vigilance through email simulations and online training is key to making sure your intricate IT security strategies aren't unraveled by a single unwitting click.
Multifactor authentication is no longer a "nice-to-have" solution. It should be a standard component of all IT security strategies. Turn on MFA for every app and every site—and consider requiring it for logging onto individual computers as well.
Rely on a managed IT service provider. Ideally, select one who prioritizes client cyber security before everything else.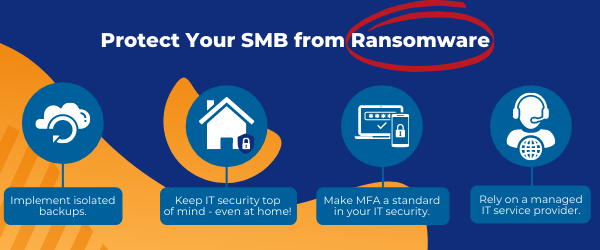 BYOD and the mingling of personal/company data
Besides ransomware, the next largest security issue is letting employees use personal devices to access company systems. The simplest solution? Don't allow employees to BYOD, in any capacity. Instead, only allow company-managed devices to attach to your company network and access company data remotely.
However, if this isn't possible, work with a managed IT service provider to come up with the best solution for your needs.
What other IT security challenges can we expect to see in late 2021?
Security standards are always changing.
More and more security features are being incorporated into computer hardware, requiring frequent refreshes to keep technology current. This results in a shortening lifecycle for your company technology.
Recent changes to Apple's WiFi security standards, as well as Microsoft's requirements for Windows 11, exemplify these fundamental changes.
Continuing innovation even when employees are remote or hybrid
2020's IT changes brought up some new, creative ways for teams to collaborate and innovate, even when they were miles apart. Many of these new methods will likely stick around.
To keep teams working at their best, you'll want to:
Consider using Microsoft Teams in your business. It will help boost productivity, help staff collaborate and bolster your company culture. Plus, it's included in your Microsoft 365 subscription. It's quickly becoming Microsoft's central hub, and soon I expect it'll be as ubiquitous as any web browser.
Invest in a unified communications or cloud-based phone system. Legacy phone systems won't cut it in today's world. Their spotty performance and inflexibility can detract from the customer experience, and that's not something any business wants. Modern phone systems don't have to be expensive, but you do want to look for one that can potentially integrate with Teams to simplify and smooth out your communication process.
Maintaining remote connectivity for flexible work styles
Keeping your office staff connected relies on cloud computing and redundant internet connections. You will also want a keen awareness of where your data is stored and that you have sufficient backups and business continuity systems in place.
To ensure you're meeting your employees' needs, determine that all technology plans are up-to-date and that you're willing to evolve to maintain flexibility.
IT teams are feeling more burned out than ever
The increased demands of keeping distributed staff working have taken a toll on internal IT teams. Many are feeling burned out and exhausted by their work. They're looking for a helping hand.
Fortunately, managed IT service providers make the perfect sidekick for IT leaders. And, as the owner of an MSP, I recommend that all SMBs need some level of outsourced IT assistance, even if it's just from a security standpoint.
MSPs have tools that aren't available to most IT teams. They take a proactive approach to management and can help your internal team prioritize tasks like application support, automation and more.
They also offer redundant coverage in case you or one of your team members needs a day or two off. You can rest easy knowing that they'll have your back as a trusted partner.
SMBs will continue to focus on digital transformation
From updating and embracing new communication platforms to moving away from legacy phone systems, there's no shortage of digital transformation happening across the SMB landscape.
Expect to see a continued push against traditional paper processes, an increased focus on the customer experience, and greater emphasis on technology for business meetings and conferences.
The need to increase IT budgets
With all of these changes to work models, security, uptime, and flexibility, you're probably wondering about changing IT budgets. Unsurprisingly, your budget will need to increase to meet changing industry demands.
Especially where IT security is concerned.
However, you need to make sure that, while your budget increases, it's increasing for the right reasons and for the right products. This is where an MSP's expertise is invaluable. They will constantly evaluate their own technology stack and think about how it could work better.
To help add some padding to your budget in other areas, take a look at your cloud subscriptions and only keep those that provide needed value to your business. Evaluate each one—are there redundancies you don't need to be paying for? Once again, I urge you to take a look at the apps available as part of your Microsoft 365 subscription. They'll help you consolidate your app usage where possible to save time and money.
What technology challenges is your SMB currently facing?
CoreTech has helped hundreds of SMBs with their technology challenges, and we'd love an opportunity to help yours.
If you're experiencing any kind of IT pain or have questions about how you can transform your business with the right technology, contact us today.