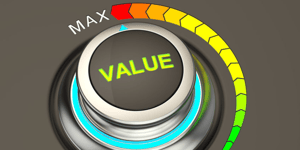 Not getting the full value from your IT service provider? Considering making a switch to another company?
You've likely gone back and forth with the decision, weighing it in your mind, with questions like:
Isn't changing IT companies a daunting process?

How much time and money will it take?

Can I break my contract?
However, if you're asking yourself these questions, you've seen one, some, or all these red flags crop up during your time with your current IT service provider:
No communication & drawn-out response times

No new recommendations or improved solutions

No knowledge or resource sharing

No proactive approaches – only fixing what's broken

No planning or budgeting assistance

No focus on the relationship, just the next upsell

No talk about security threats—

the biggest red flag today!
No communication and drawn-out response times
When you reach out with a problem, does your IT service provider get back to you promptly, or does it take a few hours? What about a few days?
If communication isn't timely, you're sacrificing productivity and money on a provider that isn't, well, providing for your organization.
No new recommendations or improved solutions
The right IT service provider will learn about your business and help you find the right solutions to meet, and crush, your specific business goals. That means they'll help you vet and select solutions to improve your bottom line. If your current provider isn't doing this, it's time to consider making a switch.
No knowledge or resource sharing
Truly great IT companies don't just keep an eye on your technology. They're also eager to share the information and resources with you to take it to the next level. Whether it's a blog article like this one, talking with you about your business goals to provide the tech solutions to get you there, or even just a quick tip over the phone, the best IT companies keep you informed—not only about your business technology but about how you can maximize your use of IT.
No proactive approach
Is your IT company only fixing things when they break? If they're not offering proactive solutions like network monitoring and device management, just to name two, you're not getting the most out of your IT investment.
No assistance with planning or budgeting
To provide the best service, IT providers should assist with IT planning and budgeting, including things like technology lifecycle plans, business continuity and disaster recovery, and your organization's technology roadmap.
They should also meet with you regularly for strategic business reviews to ensure your business and technology are aligned to accomplish business goals.
Is your current IT service provider tackling these responsibilities?
No focus on relationship-building—just the next upsell
The right MSP for your business doesn't just recommend technology for the sake of it. Instead, they focus on your business, making you the center of their universe.
Great IT service companies want to see your company succeed, and are in it for the long haul. They focus on building a long-lasting, collaborative partnership. To them, you won't just be another set of users, and they'll be committed to you.
No talk about the latest security threats and solutions—
the biggest red flag today!
It's important for any business to stay current with IT security best practices and systems, and it's one of the most crucial aspects an IT provider can take care of for your organization. If your IT provider isn't concerned about the security of their own systems and data—then they aren't concerned about yours.
You want an IT service provider that leverages best-in-class solutions in an optimal, layered IT security strategy, because cyber security threats aren't slowing down anytime soon. And you want to be sure they're staying updated on the changing threats and trends, too.
Are you seeing red flags in your relationship with your IT company? It's time to make a change!
If you're experiencing any of these situations, give CoreTech a call. Our knowledgeable team of technology professionals does IT differently. We leverage each other's expertise in planning, operations, technology management, and more to ensure our clients get the best IT experience.
We don't just fix broken technology; we work with you to improve business functionality and productivity. To learn more about CoreTech's unique, relationship-driven approach, contact us today.
Not sure what to consider when evaluating potential IT service providers? There's a workbook for that.
Download the MSP Comparison Workbook today! >>>