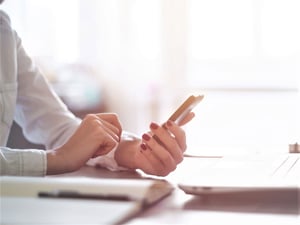 Several years ago, I took part in the mass migration from flip phone to iPhone. I was excited but apprehensive, as I knew there was a lot to learn. At set-up I encountered my first hurdle - I didn't know where to start. My first mistake was asking a friend for help instead of going to support. My friend was more than happy to help, but when trying to create an Apple ID, the phone stated that my home email address was already taken and therefore, unavailable for me to use. Now, instead of looking into why my email address was already in use, I obtained help from another friend and a new email address was created for me. Previously, I never needed an email address for identification, so I didn't think it would be a necessary to hold onto these new credentials. Anyway, I only used the phone for texting, calling and emailing, so it was no big deal.
Down the road, the situation became even more difficult. I got a new iPhone and was wanting to do more with my phone (like download apps etc.). This required a password - which I didn't know - so I asked for help from a co-worker who then set up my phone using my work email address and password. This time, I diligently wrote down the password and placed it on my cubicle wall.
Fast forward five years and I'm no longer working at that company and neither is my co-worker. That sticky note with my password is gone and sadly I have no access to use my phone without it. At my new job, helpful coworkers tried to get access for me to download apps and transfer photos on the phone, but without the password it could not be done.
I persisted, and went to the Apple store, as well as making numerous calls to Apple support, to no avail. Without the password and answers to my security questions my phone was unusable.
Throughout this process, I have definitely learned a lot. I'm sharing these lessons with you, so hopefully you can avoid going through a similar experience.
Always pay attention to what you're doing when setting up your phone or any other devices. Obtain technical help from an expert if needed.


Remember passwords and email addresses that are connected to those devices. You need to know all your passwords to all your accounts (Apple ID, Google ID etc.) especially if someone else set them up for you.


Don't put your important information (usernames, passwords, etc.) on a note or a board as these can be easily lost.


I would recommend using a good password management application. If I would have known about them and used one from the beginning, a lot of this could have been avoided.


Make sure you choose security questions that only have very specific answers. It is very important that you remember these.


Don't set up more than one account for any device or service.


My last lesson is to go through the steps yourself. It may be a learning process, and a technical person may help you out, but knowing how to do the setup yourself, from the beginning, is the only way you'll learn and have that knowledge for the future!


Thankfully, I now have a new iPhone that works, I have my passwords securely saved and maintained in LastPass and I have the really important ones memorized.