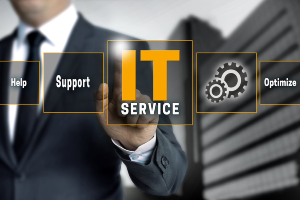 Are you taking advantage of all that your managed IT services provider offers? If not, you have the opportunity to reduce some costs and increase operational efficiency. You may have worked with a managed IT services provider for years or you may be new to outsourcing IT support, either way there are surprising benefits you may not have considered or identified.
1. Reduced costs
Wouldn't it be less expensive for my business to have its own department or in-house IT guy? Surprisingly, it is not. It is estimated that successful deployment of managed services will help in reducing IT costs by 25-45% and will also increase the operational efficiency by 45-60%. Hiring an IT person, (or several) means your business is paying for recruiting, salary & benefits, ongoing training expenses and the list goes on. When you take all the expenses into consideration you are not saving money.
A managed services IT provider charges a monthly fee for ongoing support. Thus, your cost is predictable. They are also staffed with multiple levels of expert resources for escalations, take calls 24/7/365, are always improving their skillsets, and they take advantage of software automation and best-in-class tools to support your growth.
2. Faster innovation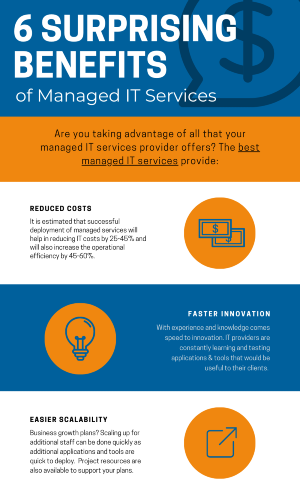 A managed IT service provider that is giving their clients a higher level of support and service is always adapting and adopting new technology as well. They are constantly learning and testing applications and tools that would be useful to their clients. You don't have to worry about how you are going to support new IT project initiatives to meet your business goals as you have a team of IT experts behind you testing them out already.
3. Easier scalability
Does your business have growth plans? Just know that working with a managed IT services provider, you will be able to scale quickly. They have project resources and the ability to scale up their IT support, applications and tools to support your plans. In this way you are not stretching internal IT resources thin or having to go out and hire additional staff for your IT team.
4. Predictable IT spending
Remember I mentioned the large group of expert resources? Included in the cost of your monthly IT support contract are IT consulting services to support your business efforts. Whether you need them once per year, or at touch points throughout the year, you have someone to assist.
The best managed IT services provider knows your business and your goals. They have asked questions and gotten to know your business during onboarding and throughout the year. They participate in strategic planning, develop a technology roadmap, and create an IT budget for your business. Then they set up touch points throughout the year to visit and update the plan. With these deliverables in place, you are able to know what expenses occur when and by how much. If you incorporate a project in your budget you will have an estimate of the costs associated with that project so that you are able to plan for that as well.
5. Improved vendor management
Are you tired of sitting on the phone with cloud service providers, printer companies, internet providers, or application support companies to resolve an issue? Managed IT services providers take these tasks on for you. They are comfortable working with numerous IT vendors and coordinating resolutions, a new contract, or completing upgrades.
Vendor coordination can be time consuming. And there are pros and cons of outsourcing your vendor management. What it ultimately boils down to is that you can streamline your operations by placing this task in the hands of an IT provider that is used to the ins and outs of vendor management.
6. And, best of all, time to focus on your core business
Are you or other staff in your office taking on IT responsibilities because there is no one else to help with them? When you outsource to an IT services provider you regain focus on your core business. Staff email, call or submit IT service requests when they need help. Your business has IT planning and budgeting help. And projects are completed as they are scheduled. As you and your staff regain the time you can focus on serving your customers and on the future of your business.
There are a lot of reasons to outsource your IT or look into co-managed IT services. Please check out our website for additional information about CoreTech, and if you are in the market for a managed IT service provider reach out to us today!