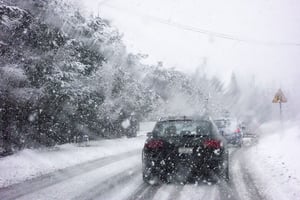 Today is the official first day of winter! As nice as it sounds to get all wrapped up in blankets with a warm drink and wait out the next few months, we have things to accomplish! But unsurprisingly, Nebraska winter weather isn't always on board with our plans. Sometimes it's the snow, other times the ice, and occasionally even a power outage can get in our way. So, let's get your business prepared for the unpredictability of winter in the Midwest, now!
Here are some suggestions we have for giving your business the greatest chance of maintaining continuity, regardless of what this season brings:
Utilize the cloud. With a device and an internet connection, your staff can simply log in to the applications they need and work seamlessly from home, without missing a beat. Setting up the cloud applications you need ahead of time is key.
Plug your computer into a battery backup. A power surge has the potential to fry electronics, rendering them useless and destroying all your hard work. A battery backup will protect your computer from damage as well as allow you time to save what you're working on, before safely shutting down your computer.
Have a backup internet provider. In today's business environment, if the internet is down, all operations come to a screeching halt. It's not uncommon to rely on a secondary internet service provider for instances when your primary provider is experiencing outages.
Implement reliable, continuous data backup. If something were to go awry within your system, a reliable backup of all your data will get your business up and running with minimal downtime.
Check your business insurance policy. Does it cover natural disasters such as blizzards, ice storms and water damage? Make sure your business is fully covered before a disaster strikes.
As a bonus, one of the most important ways your business can be prepared is by creating a disaster recovery plan and ensuring everyone knows how to follow these procedures. Implementing a plan ahead of time, will take the guess-work out of a stressful situation, minimize downtime, and get your business back to operational as soon as possible.
We're ready to help your business get prepared for winter in Nebraska. Reach out to us at 402.398.9580 or info@coretech.us today!