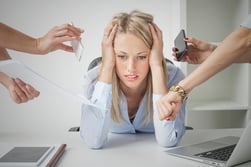 For almost all of us, work is one of the biggest parts of our lives, and the stress in this environment can greatly impact our ability to do our jobs effectively. This stress can lead to negative relationships with our coworkers, and even health risks. Although some amount of stress is a good thing, it is important to maintain a healthy balance by efficiently managing our stress in the workplace.
Identify your Stress
The only way to begin managing your stress is to first understand where it is coming from. A good way to do this is to create a stress diary to recognize the causes of stress in your life and begin to think about what causes each event to cause you stress. Identify which stressors affect which parts of your life and then you can begin to determine which strategies are best suited to help you manage your stress in each area.
Stress Management Strategies
1. Time Management
In the work environment, managing your time effectively can be one of the hardest things to do. However, when you do accomplish this difficult task, it can decrease your level of stress immensely.
To start this process, you can try creating to-do lists to visualize your tasks for the day and attempt to begin scheduling these items. Also, ask yourself if you are utilizing the action priority matrix that we discussed in a previous blog, correctly.
Here is a brief look at the matrix information:
• Important AND Urgent: DO IT NOW!
• Important NOT Urgent: SCHEDULE ON YOUR CALENDAR!
• NOT Important BUT IS Urgent: ASK YOURSELF - RESCHEDULE OR DELEGATE?
• NOT Important NOT Urgent: CANCEL, DELAGATE OR DECLINE!
2. Positive Thinking
For some of us, negative thinking comes more naturally then positive thinking. Changing this bad habit can have very positive results on our stress levels.
The first step to shifting your negative thinking, is becoming aware of it. Start by looking at how you think about situations throughout your day, whether it's not being chosen for a team project or not getting a budget approved for your proposal.
Instead of thinking about these setbacks and rejections as long-term obstacles, try understanding them rationally. For example, "They are looking for individuals with a different skillset; I'm not unskilled, rather, my strengths are in other areas," or "this proposal just doesn't fit into the budget right now. It's not that they hated my idea."
3. Meditation
Sometimes, situations arise that no amount of time management, scheduling, or positive thinking could change the outcome of. During these times, it may be best to accept your reality and use techniques like meditation to calm yourself and lower your levels of stress.
While meditation may seem hard to accomplish at work, it is attainable. One simple technique is to find a chair to sit in and consciously relax all the muscles in your body.
Another popular meditation technique in the workplace is to find an empty meeting room or office and turn the lights down. Sit down, relax your muscles, and close your eyes.
Then, just focus on your breathing for five to 10 minutes, until you feel your stress fade.
4. Exercise
Another acceptance-oriented approach to managing your stress is exercise.
We all know that exercising is beneficial to the body, but it can also be beneficial to your stress levels. People who are more active are less likely to experience anxiety and depression. Dopamine, serotonin, and norepinephrine are chemicals that your brain releases when you exercise, making you feel relaxed, happy and less stressed.
5. Support Network
An important factor in relieving stress is a strong support network. Sharing your problems and anxiety with people who can give you advice, information, backing, help and their friendship is important.
Find the people in your work life, whether that be a networking group, coworker, boss or team member, and build your support network. Sharing, as well as reciprocating the gesture, is crucial to a strong support system.
Anyone who has ever had a job knows the stress that work can bring.
It is sometimes hard to handle and almost impossible to just drop at the door on the way out for the day.
To lower your stress levels at work, begin to try some of these strategies and enjoy your less stressed work environment!
Have additional stress-relieving tips? We'd love to hear them. Leave a comment below with your best tips for managing your workplace stress and anxieties.