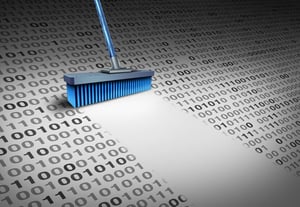 Data loss, whether from human error, a ransomware attack, security breach or a hardware failure, can cost your business a lot of money. In fact, in 2020, a data breach cost SMBs an average of $149,000.
Most small businesses can't handle losing that amount of revenue to data loss. That's why you need a data loss prevention strategy, plan and policy. In this post, we detail five strategic tips for preventing data loss in your SMB.

Define your objectives for protecting data

Understand and identify risks of your business and your industry

Keep track of how data moves and is stored

Create a data loss prevention policy for your SMB

Educate your employees on how to help prevent data loss
Define your objectives for protecting data
Why does your organization need to protect data? To avoid theft and data leaks, sure, but what are your company's privacy goals? Having clear objectives will help you determine what strategies to adopt for data loss prevention.
Looking for examples? Consider compliance requirements and client-business confidentiality for starters.
Understand and identify risks of your business and your industry
Businesses collect a lot of information, but not all of it needs Fort Knox-level protection. Consider putting your data into categories based on how valuable it is and how well protected it should be.
To start, identify the sources and the locations of your most sensitive information. Make protecting this information, like employee and customer details, proprietary data and trade secrets, a priority.
Keep track of how your data moves and is stored
Trace the flow of your data from its source to where it gets processed or utilized. This includes considering your data storage as well. You'll also want to think about who accesses and uses that data, along with the equipment and software used to do so.
Are there risks involved in that data transfer? Thinking about the answer to this question, along with the more detailed movement of your data will help you create a big-picture data loss prevention strategy.
Create a data loss prevention policy for your SMB
Once you've gathered the necessary objectives, understand your risks, and know how your company data is transferred and stored, you can formulate your actual policy. Ensure that it suits your organization, as no two are the same.
Your policy should outline all the changes necessary to meet your goals, including:
Organizational

Software

Hardware
You'll also need to consider how your changes may impact third-party organizations or vendors that are affiliated with your supply chain or work processes.
Tips for creating your data loss prevention plan:
Create a policy that aligns with:
The type and amount of data your business commonly handles

Industry compliance requirements

Your business model
Then, decide on how to deploy this plan across your organization, as well as how you will enforce it.
This will all depend on the policy's scope and existing technology.
Educate your employees on how to prevent data loss in your SMB
A data loss prevention policy is great, but you have to make sure your employees adhere to the procedures. Your HR department can help with any data security policy, keeping your staff informed of the entire rollout.
You'll want to clearly explain employee roles in keeping data safe, emphasizing the importance and reasons for your holistic policy and your chosen guidelines.
Data loss can devastate any business. Prevent it in your SMB with a strategic data prevention policy.
Besides, the damage just doesn't stop at your pocketbook. Losing valuable data can impede the customer experience and tarnish your company's reputation. As word spreads about data loss, breaches, or leaks, such damage is even harder to bounce back from. Sometimes, there are even legal ramifications, too.
That's why it pays to be prepared with solid plans and robust IT security solutions. At CoreTech, we understand how important it is to keep your data secure, no matter where it's stored. We'll help you adopt a proactive approach to IT security and address any vulnerabilities before they become major problems.
Contact us to learn more about protecting your small or medium-sized business today.