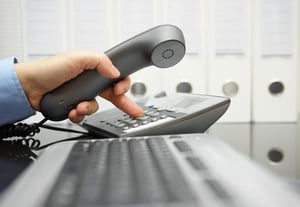 How often do you think about your computer equipment and how you could be getting more memory and bigger storage, a faster processor and updated software and hardware?
Now, how often do you think about your phone system and making sure you keep it up to speed with your organization's increasing technological demands?
If you're like most people, you just don't think about your phone system. It just works—right up until one day it doesn't. Then you realize that it has become too old to make fixing it worthwhile, or even possible. And while you're scrambling to find a replacement, your calls are lost, business operations are disrupted and revenue decreases.
The risk of a business phone system failure increases with the age of the system, so how can you tell if yours is getting too old?
Here are some of the most common symptoms of an aging phone system:
The software you use to administer the system on your

PC

won't work after the latest Microsoft update and there are no updated versions available.

You have started

experiencing

more and more hardware failures

.

You can't find any replacement parts, or you can only find refurbished parts that are increasing in cost as they become

more scarce

.

You've had to reboot the system more often because of quirky

or intermittent

behavior

but

you can't seem to find any specific issues.

The last company you called for service eight years ago doesn't service that

system anymore and you can't find a qualified technician who does.



While the items above are all 5 clear signs your phone is outdated, perhaps the biggest indicator is its lack of productivity-enhancing features. These features likely became more apparent to you as people started working from home at the start of the COVID-19 pandemic.
Your industry colleagues are able to take their business calls through an app on their laptop or cellphone. They're getting their voicemails in their email through transcriptions or .wav files, and they are keeping in touch with their co-workers via chat messaging. They can be as productive at home as they are at the office. But you aren't able to because your phone system is old—and tired.
To avoid the risk of sudden hardware failure, it may be less expensive, in the long run, to start a proactive search for replacements while your current phones are still functional.
When you're ready to go over your options, CoreTech is here to help find the best system for your organization's needs—and stay within your budget. So, whether you decide to upgrade to a new on-premise system or a cloud-based business phone system contact us today for expert assistance!