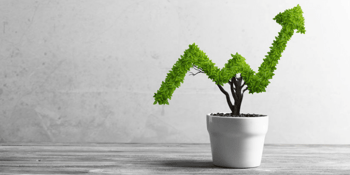 Is your small or medium-sized business experiencing growth?
That's great news for your bottom line, but you need to ensure your IT infrastructure is supporting your growth, rather than hindering it. Do you have enough equipment for your staff? Is your network robust enough to handle client demands?
The continued growth of your business starts with careful IT planning and consideration. Without it, you'll likely experience growing pains.
To keep your business expanding smoothly, avoid these five common mistakes.
Common technology mistakes
could keep your business from growing sustainably
1. Leaving IT for Last
It's easy to understand why this is the number one mistake SMBs make. When starting a business, you're focused on your product or service, serving your customers, and reaching the right audience. Essentially, you're trying to build something from the ground up, so your time and money are limited.
If that money is, understandably, going toward your marketing, inventory, and sales efforts, any IT expenses are second thoughts. However, your IT is essential to doing business, and you need to think carefully about how using technology can help you meet your business goals.
2. Choosing
Trendy
Technology
Deciding to invest in your business technology is the first step, but you have to choose what will work best for you. That doesn't mean you should choose the trendiest devices or software.
One example is video conferencing. Over the past year, many businesses would have been unable to function without virtual meetings and calls, but before they went out to buy new software and licensing for their team, they should have looked at what's already in their tech stack.
For instance, if you're already using Microsoft 365, you have access to Microsoft Teams, which offers these features. That means you don't need to buy another video conferencing license for each team member.
There are a lot of options for technology out there, and choosing the right tools and resources for your business can take time . It helps to have a trusted advisor in your corner to assist you with making sense of it all, as well as determining what will best meet your business goals.
3. Buying Tech Without Getting Buy-In from the Team
As a business owner, you're forced to make a lot of decisions. At first, it can be faster and easier to make them on your own because the decisions only affect you. As your business starts growing, however, you should consider other perspectives from your team.
You're still ultimately in charge, but now your decisions impact others. That means potential pushback. When it comes to the technology your business uses, adoption of new tools and policies goes smoother when you get buy-in from your daily users.
To get buy-in from your users, create surveys, hold discussions, and ask for feedback. With new policies, help your staff prepare as much as possible. Explaining the reasoning behind them and then ensuring your leadership team follows them will go a long way.
4. Stopping at the Surface
Highly motivated entrepreneurs crave new technology and developments, but you want to be sure you're using your business technology to its full extent. Not doing so can be costly. It's far too simple to adopt new tools, but adding more programs with overlapping features can bog down your efficiency.
Avoid inconsistent experiences by training staff on new technology. Designate someone as champion who has used the software and tested it heavily. Or, hire an IT consultant who can help with training and be available to answer any questions.
5. Ignoring IT Security
Businesses are under siege from numerous threat vectors, and even just one hacker win from a phishing attempt could cost you in money and downtime.
A mandatory cyber security awareness program for your organization can keep your staff on top of these cyber threats with training like:
General cyber safety procedures

Phishing email simulations

Malware awareness

Safe Wi-Fi practices

Social engineering red flags

Desktop and mobile device security
Avoid these growing pains with the help of a managed IT service provider.
Your business is growing—that's great news! Be sure that your technology grows and evolves with your needs and goals with the help of an IT service provider.
By partnering with an MSP like CoreTech, you're gaining an extension of your team that keeps everything working smoothly and offers crucial planning and budgeting services to help solidify your business's future vision.
Contact CoreTech today to learn more about the specific ways a managed service provider can help your business experience sustainable growth.