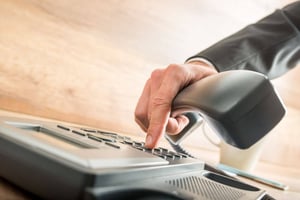 As we are nearing the end of a very challenging year for individuals and businesses alike, I realize I have developed a newfound appreciation for hosted, or cloud-based, business phone systems.
Having worked in telecommunications for over 30 years, I was used to premise-based phone systems and preferred them over cloud-hosted phone systems. But this year, the COVID-19 pandemic has changed the way some of us are doing business, and hosted systems do seem to have the advantage for those whose workers have moved to the home office environment.
Yes, an existing on-premise system using IP phones can accommodate home workers with some programming modifications and/or additional equipment like a border gateway. However, with a hosted system, workers simply take their phones home and plug them into their home network with no additional requirements except an Internet connection.
Reports indicate that even after we can return to "normal," many businesses will opt to downsize the office and continue to have employees work from home, so what should your business consider when looking for the best voice solution?
What should you consider when looking for the best voice solution for your business?
Primarily, cost is an important consideration, but it includes more than just the initial investment or monthly charges incurred. Below, I've discussed four additional considerations.
I used to think that cloud-hosted phone systems would cost way more in the long run than an on-premise system purchased outright, but that's not necessarily true when you consider the following:
1. Multiple Locations
If your business has multiple offices in different geographic locations, you will want to compare the cost per seat for a hosted system versus the cost of purchasing and maintaining a system for each location—along with the telephone service required to connect it to the outside world.
With a hosted system, you can get phone numbers native to each location, so each office still displays a local telephone number. That means no more long-distance charges between offices since all users can be called via their extension from any other office.
2. Flexibility
A hosted phone system is highly flexible, especially if your business is seasonal. You can easily add or remove users as the need arises.
An on-premise system would be purchased to accommodate the maximum expected users/traffic plus growth, and there is normally no flexibility in adding and subtracting telephone lines as the service usually comes with a three- to five-year contract.
Additional advanced features such as unified messaging, conferencing, call recording and mobile apps are available with hosted systems at no, or a low, additional monthly cost, whereas purchasing these features for your on-premise system can require a large increase in capital expenditure for additional hardware, software and licensing.
3. Upgrades and Maintenance
Upgrades to your hosted phone service are done automatically as they become available, and maintenance and programming changes are included with your monthly service.
With an on-premise phone system, even if the hardware is under warranty, the labor to replace it is usually not included, and you will be charged for any upgrades or programming changes requested.
4. Redundancy
Because the components of a cloud-based phone system are not all housed in the same location, most providers have a low amount of service downtime and very few disruptions. Cloud systems usually have very small amounts of downtime due to geographic redundancy.
Think of what it would cost to provide redundancy for an on-site system. You would have to purchase and maintain a second system and lease space in a data center to house it.
There's a lot to think about when deciding on a phone system for your business, and we've only just scratched the surface in this post.
A cloud-based system and an on-premise system can provide the same features and end-user experience, and you have to look at it from the perspective of your specific business. Every single one is unique, and so are your goals and your needs.
Fortunately, you're not alone in your phone system selection. The experts at CoreTech are well-versed in business phone systems and solutions, and we can help recommend the best course of action for you.
Reach out to us today, and we'll help you examine the pros and cons of each to find the right fit for your business.
---
Did you like this post from CoreTech's team? Don't forget to share, and be sure to check out these other hand-curated picks from our other UC experts!