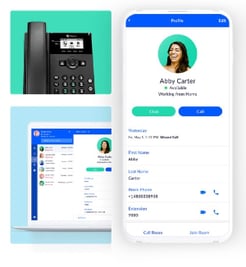 Your old phone system still runs, and you're generally comfortable with it. Until it doesn't run, and it impacts your business. Replacing your old system should be an easy decision when you take into consideration how communication with your clients, vendors and staff impacts your business operations and bottom line.
What can you expect out of a new phone system? Here are just three ways it will impact your business:
Flexibility
Your current phone system might be functional to make and receive phone calls, but features that come with cloud telephony will take everyone's productivity to the next level. It's not just about the phone calls themselves; it's everything that happens around them.
If you need more efficient workflows, you need new features. Upgrading your business phone system will give you access to call routing, auto-attendant, call recording, voicemail-to-text, messaging, video, chat rooms, conferencing and many other features that will transform the way you communicate.
Scalability
Is your company growing fast or expanding to new locations? Is it complicated and expensive for you to add new phone lines or add new phone systems to a new office?
If the answer is 'yes' to any of the questions above, you're ready for a new system. It makes no sense to hold onto a phone system that delays or even prohibits your growth.
Cloud phone systems scale with your business. Adding new users and phone lines can be done easily with just a few clicks. You can also add calling features to accommodate busier seasons, and if business slows down you can reduce your lines and users. You won't get this scalability and flexibility with legacy systems.
Improved Customer Service
Cloud systems boost employee flexibility, allow you to see important customer data, never miss a call, improve your call capacity, and much more. These are all excellent features that can improve how you service customers.
The better the experience customers have with your business, the greater the chances are that they'll trust and recommend you to others. Knowing that they can easily contact you at any time is an excellent way to ensure they do business with you and become repeat customers.
If you haven't implemented a cloud phone system into your business yet, you may want to consider doing so as you can experience a wealth of benefits.
Would you like to learn more about how to decide what business phone system is right for you? Check out our blog here. Or if you would like to discuss options and obtain a quote, please reach out to us!