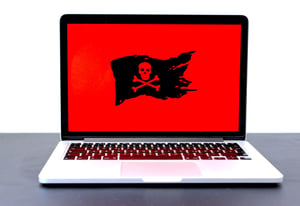 As more companies, large and small, increasingly rely on technology and cloud computing to keep their operations running, network security demands more attention.
Small businesses in particular often don't realize they are at risk, but external IT security threats are always present. Therefore, it's imperative to recognize and prepare for these potential security threats to protect your clients, your employees and your business.
Understanding Where Threats Come From
It's important to realize that security threats are real. There are people whose job it is to wake up every day and try to figure out how to hack into your secure information. Many security thieves are even using artificial intelligence to get into your systems and devices. These include:
Criminals: People who are trying to steal and sell your information or blackmail you for money.
Hackers: Some are students who have nothing better to do than see if they can break into your systems, while others are ideological hackers who want to spread their own message by posting their own information on your websites.
State actors: People who steal intellectual property.
All of these external threats to IT security are very sophisticated, and it takes a professional to help ward them off.
3 Most Common Business Network Security Threats
When it comes to infiltrating your IT systems, there are three key areas that can lead to network security threats.
Ransomware, malware, and phishing are the worst threats. Today's hackers and security thieves rely heavily on ransomware, malware and phishing to infiltrate your IT systems. In fact, approximately 80 percent of all security compromises are caused by users clicking on a phishing email or falling victim to a social engineering scheme.
These

phishing attacks

can take a variety of forms, including text messaging, email and phone calls, which is why it's vital your users are regularly tested on recognizing cyber security threats. Your employees can be either your strongest asset or the weakest link, so don't let them open up vulnerabilities in your systems.
Mobile and remote devices are vulnerable to attacks.
As more businesses work remotely, the environment is more complex. With smartphones, tablets, laptops and even desktop computers connecting from off-site locations—through both Wi-Fi and data networks that may or may not be secure—there are more avenues to exploit, as these devices can be hacked with little or no awareness of the user.
Outdated software or hardware components leave a dangerous opening.
Updates and patches are usually released to remove bugs and clear up potential security risks that have been found in previous versions or modules of equipment. When users continue to use applications or other technology without regular, ongoing updates, they will experience poor performance from their technology.
Plus, it leaves a door open for hackers or criminals to worm their way into your system to steal your information or your resources.
How to Combat Network Security Threats
To reduce possible external IT security threats, there are several steps you can take to improve your security measures.
Train your employees

on how to spot and avoid malware, phishing attacks and other suspicious messaging that could be a security threat.


Develop security policies and postures to look for and address potential areas of risk for external IT security threats.
Make sure your systems are constantly updated and patched to close potential back doors for hackers.
To implement these procedures, you need expert security advice and technology. This is an ever-changing technological landscape, and keeping your business safe requires an IT security service provider with the knowledge and experience to not only keep up with those changes but also combat evolving threats.
CoreTech can assist you in identifying areas vulnerable to external IT security threats, and we'll work with you to address them. We also can work with you, your bank, the Small Business Administration and other small-business partners to help you sort out and target specific areas of concern to ensure that you, your employees and your clients are protected. Reach out to us for more information.
---
Don't forget to subscribe to Technology Unwrapped and get the latest on IT security trends, equipment updates and more, delivered right to your inbox!