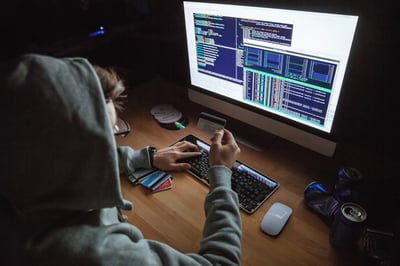 It is no secret that 2021 was full of cyber-related incidents. From the Colonial Pipeline to a cream cheese shortage, cyber attacks hit hundreds of small and midsize businesses (SMBs), sometimes more than once. As a result, SMBs have to take extreme cyber security measures to keep their network safe.
As we continue into the last half of 2022, we wanted to provide an update on the causes behind cybersecurity-related incidents, the types of attacks hackers are utilizing, and current preventative measures you can apply to your Omaha business.
Causes
The rise of cybersecurity-related incidents has occurred for several reasons, including the shift towards hybrid working, little to no cyber security training, and lack of tools and resources deployed by SMBs. And, let's face it, cybercriminals are making money and are increasing their efforts.
As businesses slowly return to regular work hours, the shift of working remotely and in hybrid offices has brought new cyber security challenges. Employees might use public WiFi when working remotely, which allows hackers to access and expose sensitive data stored on their devices.
Since small businesses do not deploy cyber security training, employees can be easily tricked into falling for social engineering scams, malicious threats, or sharing logins, sensitive data, and other company and customer information, as they do not know what to look for to identify suspicious cyber activity.
Employees also need to put into practice what they learned in order to retain the knowledge. Without a test or quiz to give them this opportunity, employees lack the circumstances to apply their learned knowledge. Simply talking to your staff about cyber security threats is not enough, as most information can quickly go through one ear and out the other. If your organization is affected by ransomware, do you have procedures and plans set in place?
Types of attacks occurring
Here are some consistent and emerging cybersecurity threats to be aware of:
Social engineering scams
A hacker will manipulate someone into spilling confidential or personal information for financial gain. According to Verizon's Data Breach Investigations Report (DBIR), 85% of all data breaches involve some human interaction, meaning technical vulnerabilities are created due to human error.
Cloud vulnerabilities
As more small businesses are switching to the cloud for data backup, hosting, and communications, hackers have also focused on the cloud to access private information. Verizon's DBIR found over 90% of the 29,000 breaches they studied were caused by web app breaches. Cloud security has become necessary, with many businesses adopting a zero-trust policy.
Ransomware
While ransomware has been an active threat for some time, the price to pay for hacker infiltration has skyrocketed to as much as $200,000. Not to mention the average 21-day downtime a company experiences while hackers hold their network hostage.
Internet of Things (IoT)
More companies are allowing hybrid and remote working, implementing bring-your-own-device policies. Without proper tools, security policies, and training in place staff may be unknowingly exposing the network to hackers. Hackers target IoT devices like smartphones or tablets because the average American does not perform consistent cyber hygiene habits in their homes, such as using protected WiFi networks or safeguards like a VPN.
Prevention
With cyber security incidents growing and becoming more advanced every year, small and midsize businesses must understand how these attacks can impact their daily operations and how best to take the proper steps to protect themselves. Early detection of a security breach is critical to saving an organization's reputation and countless dollars in damages.
Small and midsize business cybersecurity best practices should include:
Consistent employee training
Employee cyber security training should not be a one-and-done situation. Businesses should consider continuous training to educate employees on potential security vulnerabilities, recognizing and avoiding scams, creating strong passwords, and protecting sensitive customer and company information. Here are the four baseline steps CoreTech's security training offers:
Deploy a baseline test to test cybersecurity awareness

Send a safe phishing email and monitor how many staff fail the test

Conduct a 45-minute security awareness training session

Create bi-weekly phishing test for those individuals that fail, schedule remedial training
Update application and security software
Companies should utilize firewalls, antivirus software, and anti-spyware programs to help ensure sensitive data cannot be easily accessed by hackers. These security programs also require regular updates to keep them free from vulnerabilities, so check any software vendors' websites to learn about upcoming security patches and other updates. We offer CyberCNS as a way to monitor malicious activities, out-of-date software applications, and deficiencies in the network settings. It is a great tool that provides clients with paths forward to remediate and protect their network.
Install multi-factor authentication (MFA)
MFA requires additional verification information, such as a security code sent to your phone, to log into networks, systems, and computers. It is essential to utilize MFA—turning it on for computer access, VPN connections, firewall, and Microsoft applications for a more secure experience.
Purchase cyber insurance coverage
Cyber insurance can significantly assist with protecting small and midsize businesses from the potential loss of financial and reputational damage incurred from data breaches. Cyber claims handlers provide an added layer of protection to the organization. On the other hand, claims can be denied for the following reasons: failure to maintain an active policy, fraud committed on the application, extortion, ransomware, and social engineering schemes.
Keep your company safe
Companies need to be more aware of cyber threats and be proactive by following specific cyber-security procedures to help protect their productivity, reputation, and customer loyalty. Understanding common causes of cyber attacks are the first step forward. It is imperative to develop policies and procedures before an attack can happen. Inform and train your staff. Utilizing these recommendations will put a barrier between your organization and cybercriminals.
CoreTech not only offers a cyber security training program in Omaha, but we also implement vulnerability scanning and security consulting to secure your network. Contact us today to find out how we can build a security structure for your business systems.