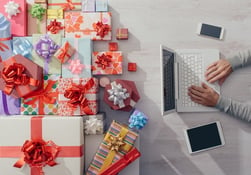 Buying gifts for the tech lover in your life doesn't have to be difficult. Check out our list of technology that will surely delight and surprise your friends and family this holiday season.
First day of Technology
Google Daydream View - Buy Now

This Virtual Reality headset and controller lets you explore new worlds, watch movies, and play games with you at the center of action.
Second day of Technology
Google Home Speaker – Buy Now
As a voice-activated speaker powered by Google Assistant, you are able to ask Google Home questions, tell it to do things, and ask for help just by starting with "OK Google."
Third day of Technology
Logi Circle Security Camera – Buy Now
The sleek and stylish Logi Circle is a Wi-Fi security camera with a mobile app. This includes the ability to steam video in full HD resolution.
Fourth day of Technology
Apple Watch Series 2 – Buy Now
The series 2 Apple Watch is everything that the Apple Watch is and more. Now with water resistant technology, Google maps, and faster processor, this is the watch of the future.
Fifth day of Technology
Microsoft Surface Studio – Buy Now
The Microsoft Surface Studio redefines the all-in-one-PC quoted to have the world's thinnest LCD monitor ever built.
Sixth Day of Technology
Password Manager – Buy Now
Keep track of your passwords, auto login everywhere, and store credit cards and receipts with Dashlane's password manager.
Seventh Day of Technology
Ring Video Doorbell – Buy Now
Never miss a visitor with this HD video, motion detected camera that has the ability of cloud recording.
Eighth Day of Technology
HiRise 2 for IPhone and IPad – Buy Now
The HiRise 2 gives you the perfect place for your phone in your home or office. Power your phone and free up space with its stable, elegant design.
Ninth Day of Technology
Belkin PowerHouse Charge Dock for Apple Watch and IPhone – Buy Now
Charge and display your Apple Watch and IPhone at the same time with this 2-in-1 charging dock.
Tenth Day of Technology
Amazon Echo – Buy Now
To play your music, answer questions, get news, traffic, and weather reports and even re-order dish soap, check out this voice-controlled, hands-free speaker, because it does it all.
Eleventh Day of Technology
Anker Portable Charger – Buy Now
With the ability to add at least one full charge to any smart phone, this portable charger will still fit in the palm of your hand, purse, or pocket.
Twelfth Day of Technology
Petzi Treat Cam – Buy Now
This interactive product allows you to check in on your pets and share a treat with them from anywhere, at any time.